House price growth at four-year high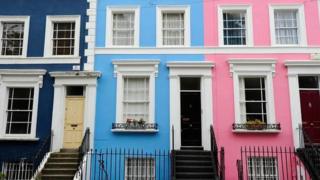 House prices in England and Wales have risen at their fastest pace in almost four years, Land Registry figures show.
Its monthly house price index found prices were 6.7% higher in April than a year earlier, with the average property price now £172,069.
Prices in London rose at an annual rate of 17%, and increased by 4.2% in April - the steepest monthly rise since records began in 1995.
The smallest annual price rise of 2.9% was seen in the North East.
There have been worries that the housing market is overheating in some areas, especially in London.
Earlier in the week, the Nationwide building society warned that the London housing market could face a "natural correction".
The mutual's chief executive, Graham Beale said there was already a "slowing down in the market place", and that buyers had started to baulk at ever higher house prices.
'New calm'
Other commentators have also warned that price rises are likely to slow.
"In the past six weeks we have seen the wind change in the property landscape, restoring a new calm and steadiness to the market," said Peter Rollings at estate agent Marsh and Parsons.
"Property prices have plateaued as more property has come onto the market."
Last week, the Office for National Statistics said UK house prices rose by 8% in the year to the end of March.
Unlike other measures of the housing market, the Land Registry figures are based on actual sale prices, comparing the price at which a particular property sold with the price it sold for previously.
The Land Registry figures also include cash buyers, who can account for up to a third of deals.
The most expensive sale in April was located in the London borough of Kensington and Chelsea, where a property sold for £24m. The cheapest sale took place in Bishop Auckland, Co Durham for £12,000.
The average price of a property in London, according to the Land Registry, was £435,034 in April, while the North East has the lowest average price of £99,001.