B&Q owner Kingfisher shares fall 6% despite 20% profits rise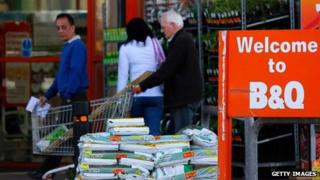 Shares in B&Q owner Kingfisher have fallen 6% after it failed to meet quarterly profit forecasts.
The retailer reported a 20.3% rise in retail profit for the three months to 3 May to £142m as better weather and discounting boosted sales but hurt profit margins.
Analysts had forecast profits of £145m for the quarter.
Kingfisher's French companies saw subdued sales, which it blamed on "ongoing weak consumer confidence".
Like-for-like sales at B&Q - which strip out sales in stores open for less than a year - in the UK and Ireland rose 9.7% compared with the same period a year before.
But sales for the first quarter of 2013 were particularly low as a result of the unusually cold and wet winter and early spring across the UK and Europe.
It meant sales of outdoor seasonal goods and building products in B&Q's most recent quarter were almost a third higher than a year ago, thanks to this year's better weather and a later Easter.
But profit margins fell 2% as the DIY store sold less profitable seasonal goods and offered discounts on kitchens and bathrooms.
And in France, one of the group's main markets, like-for-like sales grew by just 1.6% at its Castorama and Brico Depot DIY chains.
Shares in Kingfisher were 25.2p lower at 392.10p in mid-morning trade on the London Stock Exchange.
Mixed picture
Kingfisher's other UK business, Screwfix, saw its like-for-like sales grow 12% again as a result of discounting and product promotions. It also opened nine new stores in the period.
It was a mixed picture elsewhere with Kingfisher's foreign markets group reporting losses in Russia, Romania and China.
Kingfisher chief executive Sir Ian Cheshire said: "We have made a strong start to the year, capitalising on more favourable weather conditions right across Europe to achieve sales and profit growth in France, the UK and Poland, our three largest markets.
"Whilst this is encouraging, the first quarter is one of our smallest and the growth achieved largely reflects comparisons with the very difficult start to last year."
Hargreaves Lansdown head of equities Richard Hunter said there was "a restrained economic backdrop in France, whilst gross margins suffered in the UK given the rise in demand for cheaper products and a number of sales in the period."