GE pledges 1,000 new jobs in bid to secure Alstom deal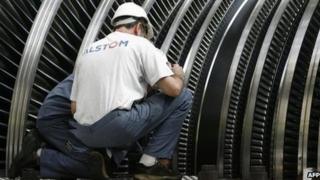 US company General Electric (GE) has committed to creating 1,000 new jobs in France as part of efforts to reassure the French government about its bid to take over local firm Alstom.
Should the deal go ahead, the jobs will be created within three years.
GE says it will open new sites and also leave the French engineering firm in control of its rail signalling business.
The French government is talking to both GE and Siemens over Alstom.
The GE commitment was made during a discussion between French President Francois Hollande and GE chief executive Jeff Immelt on Tuesday evening, a government official said.
"Today we can see that GE's offer has been detailed, improved, strengthened," said the official at Mr Hollande's office, adding that there was still "some work to be done".
GE said it had had "a constructive discussion about the details of our proposed alliance with Alstom" with government ministers.
"We have made progress and look forward to the conclusion of this process in the next few weeks," the company said in a statement.
Alstom is considering a $16.9bn (£10bn) offer from the US multinational for Alstom's energy business.
Earlier this month, the government gave itself new powers to block foreign takeover bids for companies deemed "strategic".
The French government has placed a priority on preserving jobs at Alstom, one of the country's key industrial firms.
Economy Minister Arnaud Montebourg, who has veto power over the deal, is known to favour the Siemens approach over the GE bid.
German company Siemens wanted to offer Alstom half its trainmaking business and some cash in return for Alstom's energy industry turbines business, according to reports.
A tie-up between Alstom and Siemens would face regulatory scrutiny from EU antitrust authorities, Andreas Mundt, president of the German cartel office, said on Tuesday.