Mortgage approvals fall for third month running, BBA says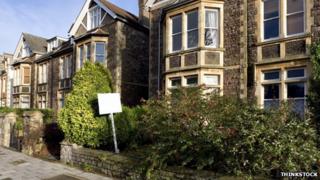 The number of mortgages being approved by High Street banks has fallen for the third month running.
In April, the number of new loans being approved fell to 42,173, from 45,045 in March, according to the British Bankers' Association (BBA).
The figures peaked in January, when more than 48,000 loans were approved.
However gross mortgage lending - the total amount of money lent out to home-owners - rose to £12.2bn in April, the highest since August 2008.
"Our figures show that the housing market is mixed," said Richard Woolhouse, the BBA's chief economist.
"The value of mortgages taken out in April was the highest for six years. However, looking ahead, mortgage approvals have fallen three months in a row," he said.
'Bunching'
The figures suggest increased lending in the first quarter of 2014, but a cooling of activity in the early part of the summer.
The BBA said this may be because of the tightening of lending criteria brought in under the Mortgage Market Review (MMR).
Under the MMR, mortgage applicants face tougher questions about their lifestyle to ensure they can afford the mortgage they are applying for.
Even though the MMR did not start officially until the end of April, many lenders had already started asking borrowers tougher questions about their ability to repay loans, in previous months.
As a result there may have been some "bunching" of mortgage activity towards the start of the year.
The BBA said it was therefore too early to say whether the fall in mortgage approvals represented the beginning of a trend, or was a technical response to the MMR.
The Bank of England's retiring deputy governor, Charlie Bean, has warned home-owners that interest rates could increase to 3% within the next three to five years, meaning loan repayments would increase significantly.