Ireland unemployment rate falls by 0.2% in the quarter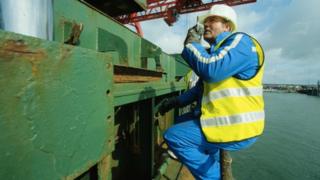 The unemployment rate in Ireland has fallen less than expected in the first quarter of the year.
The change, from 12.2% to 12%, failed to reach a 11.8% rate estimated in recent claims data.
Unemployment fell for the eighth quarter in a row from a high of 15.1%, but did not match the eurozone average of 11.8%.
The number of employed people rose by 1,700 from the previous quarter, the Central Statistics Office said.
However, in the fourth quarter of last year there was a 10,600 gain in the number of people employed.