Australia's ANZ bank upbeat on Thailand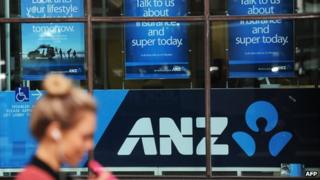 Australia's ANZ has been granted permission to operate a subsidiary in Thailand. It comes as the troubled state tries to curb an investor exodus.
Thailand's ongoing political turmoil has led to increasing uncertainty about business prospects there.
The approval paves the way for the Australian lender to gain a full banking licence in the future.
The deal fits in with the lender's so-called super-regional strategy which goes as far back as 2007.
As part of that vision, ANZ aims to source 25-30% of its earnings from the Asia Pacific region, Europe and the US combined by 2017.
A spokesman at the bank told the BBC: "The development of a presence in Thailand is an important step for ANZ given the size of Thailand's economy, its importance as a regional manufacturing centre and Thailand's connection to other countries in our network including the greater Mekong and the rest of Asia."
With approval from Thailand's ministry of finance, ANZ estimates it will take up to 12 months to establish a subsidiary, which is a step on the way to earning a full banking licence in Thailand.
'Bargain hunting'
Industry watchers see the deal as a boost to ANZ's operations in Thailand.
Emmanuel Daniel, Chairman, The Asian Banker says: "In all likelihood, the process will be used to expand their wholesale and corporate business, where they are strong at the moment. Organic growth is too expensive in Thailand.
"I do think ANZ will be highly selective and opportunistic should a good acquisition target comes about to facilitate their entry into Thai business. Getting a full licence will mean setting aside capital for their Thai business, which ANZ is not in a position to do right away."
As for the timing of the deal, Mr Daniel adds: "The business community has not lost confidence in Thailand at all. The general sentiment right now is that of 'bargain hunting' looking for businesses and property that have inherent value that can be invested in with a view of profiting when the economy improves."
Branch network
ANZ currently has a presence in Thailand via a representative office which was set up in the capital Bangkok in 1985.
The subsidiary licence could eventually allow ANZ to become the first bank from Australia to open a branch network in Thailand.
ANZ remains sanguine about Thailand's prospects: "We believe the long term outlook for Thailand is strong despite the current challenges the country is currently facing."
ANZ operates in over 30 countries, with around 8 million customers worldwide.
Foreign investors
Thailand has been locked in a political conflict since November last year, and the armed forces staged a coup last week.
In the early stages of the political turmoil, Japanese businesses considered pulling out or scaling back their investments in Thailand.
Japan is the largest foreign investor in Thailand, and Japanese companies with businesses there include car makers Honda and Toyota, as well as camera manufacturer Nikon.
Honda has recently announced its Thai unit will cut production at a plant in Ayutthaya to 60% of capacity, due to weak domestic demand.