Pfizer set to withdraw from AstraZeneca deal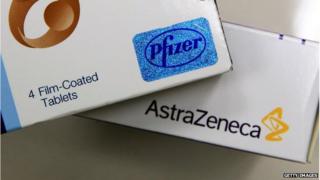 Pfizer is gearing up to announce the end of its bid for AstraZeneca - we could hear something on Monday afternoon.
After four months of wooing and four separate approaches, Ian Read, the US firm's chief executive, will say that, despite the possibility of the deal being "value accretive", Pfizer has run out of time.
The Takeover Panel "put up or shut up" deadline (agree a deal or go away for six months) comes into force at 5pm.
I am told that a few hours before that Pfizer will make their statement that they are "shutting up".
A week ago such was the irritation at Pfizer about the speed with which AstraZeneca had rebuffed their final offer, Mr Read was keen to explore other options across Europe for a major merger deal.
The notion of the AstraZeneca deal being resurrected appeared remote.
Since then opinions have softened. A number of AstraZeneca's own shareholders including major investors such as BlackRock, Legal & General, Axa and Schroders have all made it clear they want AstraZeneca to engage with Pfizer.
That has given the US business hope that the deal may not be off the table completely.
Under Takeover Panel rules, the first time any substantive discussions could take place will actually be in three months, if AstraZeneca invites Pfizer back to the negotiating table.
If that does not happen, Pfizer can make a new unsolicited approach in November.
Some significant shareholders in AstraZeneca have told me that by then the tax advantage Pfizer would gain from the deal could have been blocked by the American government.
That is not a view senior figures close to Pfizer agree with.
Tax reform in America is a notoriously tricky and lengthy process. It would be pretty remarkable, the sources tell me, if there was any move on reform by the autumn.
So Mr Read believes there is still a chance the deal may ultimately be done.
Why did Pfizer fail this time? Of course there are lots of reasons - a misjudgement of the politics involved by Pfizer, an initial offer in January that was way too low and not raised quickly enough, and an AstraZeneca board absolutely resolute that it was against a deal.
I can also reveal that there was also a miscalculation last week when Pfizer said its £55-a-share offer was "full and final". The company believed that there was still some wriggle room in that offer.
That wriggle room would have come via a mechanism called a "contingent rights vehicle". The agreement would have allowed AstraZeneca shareholders to gain more value from the deal if the UK firm's drugs had come on stream more quickly that initially planned.
The Takeover Panel took a dim view of any such suggestion, believing that it was tantamount to a new offer of "more jam tomorrow". Pfizer's last bid, the Takeover Panel said, was exactly that - its last.
It may be over for now, but with such a large number of AstraZeneca's shareholders still keen on at least discussions, Pfizer could well be back in three or six months' time for another attempt. The Fat Lady has not yet sung her final aria in this pharmaceutical battle.