Thai coup prompts warnings to tourists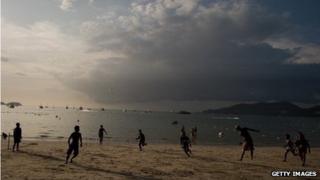 The coup in Thailand poses a threat to one of the country's most successful industries: tourism.
There's no question the country is a major tourist destination. Visitors travel from around the world to see attractions such as the markets of Bangkok, the beaches of Phuket and Koh Samui and the forests and mountains of Chiang Mai.
It is also popular with so called "medical tourists", attracted by the prospect of dentistry, cosmetic surgery or joint replacements at much lower prices than they would expect to pay at home.
Last year, there were nearly 28 million arrivals, according to industry body the World Travel and Tourism Council (WTCC), with a large proportion coming from Europe, China and Malaysia. Together, they made a direct contribution to the economy of $35 billion in 2013, or about 10% of GDP.
However, that was just the direct impact of tourist spending, on travel, hotels, restaurants and leisure activities.
If indirect effects are taken into account, for example on the construction industry or food production, the figure becomes much higher. The WTCC believes the real total was $78 billion - more than 20% of GDP.
This, then, is the industry which is threatened by the current political turmoil. In fact, some damage has already been done. Monthly visitor numbers have fallen by about 400,000 - or roughly 16% - since the end of last year, coinciding with the escalation in protests.
Of course, political tension in Thailand is nothing new - there have been at least 12 armed coups since the 1930s, while the past decade has seen regular confrontations between supporters and opponents of the former Prime Minister Thaksin Shinawatra.
But until now, the tourism sector has been relatively immune. The global financial crisis did considerably more damage to tourism revenues than the serious violence which took place in Bangkok in 2010, for example.
"One of the mysteries about the Thai economy has been how resilient the tourist industry has been. Earlier protests didn't seem to have much impact." says Mark Williams, chief Asia economist at Capital Economics.
"This time though there has been a much more noticeable impact, probably because the protests have been going on for much longer".
The effect of the coup itself on the tourist industry is difficult to quantify. On the one hand, the military has promised to restore calm. But on the other, television pictures of soldiers on the streets are unlikely to make Bangkok seem an attractive destination.
"It certainly doesn't help", says travel expert Simon Calder. "Advance bookings probably are down. But hopefully the situation will get back to normal quickly. If it does, I'd expect bookings to bounce back".
One factor which threatens to hurt tourist businesses is the curfew, which applies across the country from 10pm to 5am. That's likely to have a big impact in the country's beach resorts - which have been largely unaffected by the protests themselves.
In Phuket, for example, the beach town of Patong is a haven for younger visitors, attracted by its abundant bars and nightclubs
"This town revolves around tourism, now all the nightlife will close down and thousands of people will not get paid", said one resident, who preferred not to be identified.
"Nightlife goes on here until 4am. Now there's a 10pm to 5am curfew".
The biggest impact on the Thai tourist industry, however, may come from foreign governments. Malaysia has already warned its citizens against travelling to Thailand, while Singapore says would-be travellers should "seriously reconsider" their plans.
If others follow suit, and travel companies cancel bookings as a result, it could have a big impact. So far, though, that hasn't happened.
The British government has told people to exercise "extreme caution and remain alert", but has not advised against travel to the region. According to Simon Calder, that means people who try to cancel package holidays could be left out of pocket.
"Normal conditions apply", he says. "If they're due to travel in less than two weeks and they decide not to go, they'll probably lose their money", he says.
Ultimately, it is very difficult to predict how badly the tourist industry in Thailand will be affected by the coup, or how quickly it will recover.
"It will depend on how quickly the situation changes and travel alerts can again be downgraded and removed.", says, David Scowsill, chief executive of the World Travel and Tourism Council.
"Thailand is an incredible country with great food, temples, beaches and people. For the sake of the Thai people and people around the world, it will hopefully be soon."