China's JD.com shares surge 10% in Nasdaq debut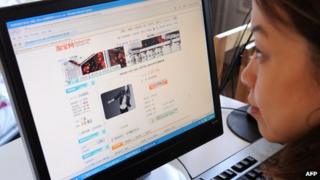 Shares in Chinese online retailer JD.com jumped 10% in their Nasdaq stock market debut.
The stock, which is traded under the symbol JD, ended at $20.9, after being priced at $19 at the start of trading on Thursday.
The company said that it raised $1.8bn (£1.1bn) after selling 69 million shares, valuing the company at more than $25bn.
JD.com is China's second largest e-commerce firm after Alibaba.
JD.com plans to use proceeds from the IPO to expand its infrastructure needs with the building of new warehouses and establishing more delivery stations.
It also wants to build a fund for potential investments and acquisitions.
The public share sale was closely watched as a measure of Wall Street's appetite for Chinese internet firms, particularly as Alibaba is considering a public share sale in the US this summer.
Analysts are expecting Alibaba to raise more than $15bn.