Bank of England warns it will hold insurers to account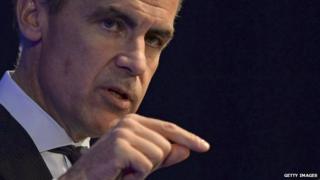 The Bank of England's governor has warned insurers the Bank will hold them to account for "reckless misconduct" in the same way it regulates the banks.
Writing in The Times newspaper, Mark Carney said: "Integrity, honesty and skill are not optional" whatever type of financial institution you run.
Insurers largely escaped the losses suffered by the financial sector in the wake of the crisis of 2008.
But he said they faced "challenges in the post-crisis landscape."
He suggested that the current era of low interest rates could lead to insurance companies taking higher risks to generate better returns.
Sanctions
While he admitted this was not necessarily a problem at the moment he said: "If we think that managements' actions today pose a risk tomorrow we won't hesitate to step in."
He also said the role of the Bank was to "make sure that failing insurers don't harm their policy holders, cost the taxpayer money or make insurance harder to obtain".
The BBC's Economics Editor Robert Peston said that protecting policy holders was a curious role for the bank. He said: "If the Bank of England sets itself up as the protector of policyholders, why should they bother to shop around to give their cash only to prudently managed insurers?
"And what incentive would there be for the insurer to manage itself prudently? Surely it would be rational for an insurer to offer investment products that promise unrealistic returns, or general insurance priced too cheaply, if customers believe the Bank of England will insulate them from losses in a crisis."
Mr Carney said that despite stringent rules governing the amount of capital they should hold, there was always the danger that an insurer will fail.
He said: "Alongside reforms that Parliament has asked us to make to hold senior bankers to account, we will create a similar regime for senior managers in the insurance industry,"
Mr Carney did not say what sanctions insurance executives could face, but new laws mean that bankers found guilty of "reckless misconduct" could face jail.
The Prudential Regulation Authority, part of the UK's central bank, took over regulating banks, building societies and insurers last year. Mr Carney said regulating the insurance industry was a "core part of our work."