Premier League riches await Championship playoff winner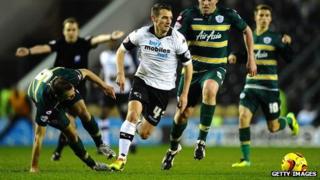 Derby County and Queens Park Rangers will contest what is estimated to be the biggest financial prize in world football at Wembley this weekend.
Deloitte says winning the Football League Championship playoff is worth £120m to Derby and £80m to QPR.
The sum is lower for QPR because they would otherwise continue to benefit from parachute payments after demotion from the Premier League in 2013.
Derby hope to return to the Premier League after a six year absence.
Championship winners Leicester City and runners-up Burnley have both already secured the two automatic promotion places.
'Significant increase'
The value of the promotion play-off to the winners has risen three-fold over the past decade, as the value of television monies on offer to those clubs in the Premier League has continued to accelerate.
"The winners... can expect a significant revenue increase in 2014-15 - their first season following promotion to the Premier League," said Adam Bull, senior consultant in the Sports Business Group at Deloitte.
In addition parachute payments for relegated teams have also increased, both in value and length.
"The vast majority of this uplift will be from broadcast income as the Premier League enters the second year of its greatly enhanced three-year TV deals," Mr Bull said.
"Based on existing distribution methods, even if a club is relegated after one season in the Premier League, it will be entitled to parachute payments over the following four seasons of at least £60m."
Mr Bull added: "The continued increase in the value of promotion to the Premier League provides newly promoted clubs the opportunity to make strategic investment on and off the pitch.
"Inevitably, the short-term priority is usually investment in the playing side of the business, but clubs need to also look to the medium and long-term."