Federal Reserve weighs options for interest rate rise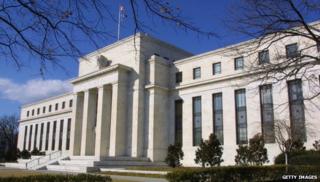 The US Federal Reserve has begun discussions on how it will raise short-term interest rates, minutes from the central bank's April meeting reveal.
The Fed has kept its target rate at 0% since 2008, when it slashed rates in an effort to stimulate the economy and combat the recession.
However, members cautioned during the meeting that a discussion did not signal a rate rise was imminent.
Most observers expect a rate rise in the latter half of 2015.
"The committee's discussion of this topic was undertaken as part of prudent planning and did not imply that normalization would necessarily begin sometime soon," the minutes said.
US stock markets seemed to accept those assurances, with all three indexes rising in the wake of the release.
Less help
The Fed has been in the process of removing some of the stimulus efforts put in place to help support the US economy in the wake of the financial crisis and subsequent recession in 2008 and 2009.
This pull-back has focused on reducing the bank's monthly bond buying purchases, known as quantitative easing, which were undertaken in an effort to keep long-term interest rates low and encourage spending.
The Fed began "tapering", or trimming, these purchases, in January (although it announced the move in December). In April, the Fed announced it had cut its purchases to $45bn a month, from a high of $85bn.
Fed chairwoman Janet Yellen has said that the central bank believes the US economy is growing, and that growth is set to pick up in the latter half of this year.
According to the minutes, Fed members felt that "recent indicators pointed to a rebound and suggested that the economy had returned to a trajectory of moderate growth".
Nonetheless, the members of the committee also had concerns, noting that while the unemployment rate was falling rapidly, other measures indicated that the labour market was still shaky.
'Right path'
The employment situation is just one reason why the central bank has said it does not yet think the US economy is stable enough to exist without some support.
The minutes were released on the same day that Ms Yellen addressed the graduating class of New York University, which also granted her an honorary degree.
Ms Yellen told the graduates: "Finding the right path in life, more often than not, involves some missteps.
"My Federal Reserve colleagues and I experienced this as we struggled to address a financial and economic crisis that threatened the global economy."
She also praised her predecessor, Ben Bernanke, for his "grit" in the face of the tough decisions that were made during the financial crisis.
That emphasis on grit seemed to resonate with many of the young graduates in attendance, most of whom said they had not yet found jobs.
Chelien Brown is graduating from NYU's College of Arts and Sciences. He says that while he has not yet found a job, he is feeling optimistic.
'Really scary'
"Most of the people who I know who graduated in 2009 seemed to have a harder time finding jobs than I have," he said. "I've had an easier time getting interviews - I've gotten further down the line a little faster than they did."
While most students the BBC spoke to agreed that they were better off than those who graduated while Ms Yellen's predecessor was in charge, they also said that the recession and its aftermath have left their mark.
"It's getting better but things are still really scary for new graduates," says Ilana Sufrin, who says that both her and her twin sister have yet to find work.
"I wouldn't say I'm optimistic, but I'm trying to be realistic about it," she said. "People do need to work - we're going to need to do something about it."