Tiffany profits jump 50% to $126m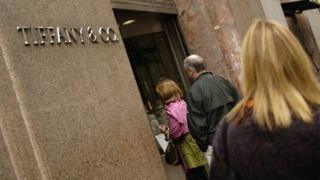 US jewellery firm Tiffany has reported a 50% jump in profits to $126m (£74.5m) in the three months to the end of April, up from $83.6m a year earlier.
Sales in the Americas, its biggest market, rose 8% to $439m, as its increasing focus on lower-priced jewellery attracted customers.
Global net sales grew 13% to $1bn, up from $895.5m a year earlier.
That beat analysts expectations for sales of $953.7m in the first quarter
Regionally, sales were 17% higher in Asia Pacific, 20% higher in Japan and 9% in Europe.
Tiffany, which is known for its turquoise gift boxes, also boosted its earnings outlook for 2014.
The company has been struggling for the past two years to find the right balance between the expensive jewellery, for which it is better known, and cheaper silver items that generate a quarter of sales.
Tiffany chief executive Michael Kowalski said: "This is an excellent and encouraging start to the year."
He also said that strength in fine and statement jewellery sales continued, while sales of Tiffany's new or expanded jewellery collections accelerated, led by its Atlas collection.
The Atlas Collection is a new range that focuses on silver jewellery - including lariats, rings and pendants - priced below $500.
Tiffany's profit margin in these pieces is higher than in its more expensive fine jewellery range.