Mortgage lending leap fuels housing market debate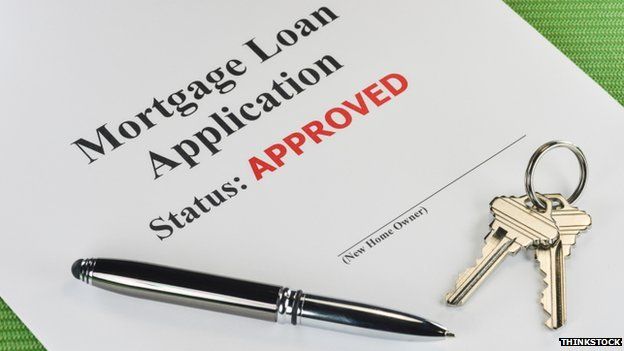 UK mortgage lending in April was 36% higher than a year ago, a lenders' group says, as a major bank moves to cool the housing market in London.
Gross lending was up 8% compared with March to an estimated total of £16.6bn, according to the Council of Mortgage Lenders (CML).
The figures come shortly after Lloyds Banking Group said it would limit lending for higher-value homes.
The data includes the first week of implementation of new mortgage rules.
The regulations, introduced by the City watchdog - the Financial Conduct Authority (FCA), came into force fully on 26 April but some lenders were already applying the new rules. They ensure that lenders conduct a full affordability check on mortgage applicants.
The extra time required for lending assessments was expected to slow down the mortgage market, and there have been falls in the number of mortgage approvals in recent months.
Although total lending rebounded April, to the highest level for any April since 2008, the CML said it was too early to be accurate about the effect the new rules would have.
"The implementation of the Mortgage Market Review [rules] from late April has made it a little harder to interpret recent data. As we have pointed out previously, there may be some disruption to the monthly pattern of activity while MMR procedures bed down," said CML chief economist Bob Pannell.
The latest CML data records mortgages that have actually been advanced, rather than just approved. The effect on those applying when the new rules are in full flow will not be seen in these figures for a few months.
Total mortgage lending remains well below pre-crisis levels. The number of homes sold per month are also well below the pre-crisis peak. In April, 94,960 homes were sold in the UK, according to HM Revenue and Customs (HMRC). This was up from 72,180 in April 2013, but much lower than the 126,450 homes sold in April 2007.
However, various consumer groups, politicians and commentators have called for the housing market to be cooled. The latest data from the Office for National Statistics showed an annual house price rise in the UK of 8%, including a 17% rise in London.
On Tuesday, Lloyds Banking Group said it would limit mortgage lending to four times income for loans worth more than £500,000, in order to address "specific inflationary pressures in the London housing market".
The average property price in London is £459,000, according to the latest figures from the Office for National Statistics.
The move, primarily for new borrowers but also to those taking out additional borrowing or those remortgaging to move, applies to lending through Halifax, Lloyds Bank, Bank of Scotland and Scottish Widows Bank.
The question now is whether this will be matched by other lenders, or give others the chance to make a land grab for this custom. Lloyds expects the policy change to affect around 8% of its lending in London.
Ray Boulger, of mortgage broker John Charcol, said the move may well pressure other lenders to follow suit.
As yet, none have done so. HSBC and Santander said that affordability, rather than income multiples, was the deciding factor when making a decision. TSB, run separately from the Lloyds stable, said it was not considering following Lloyds' move at this stage.
Barclays also said that affordability was the "most important factor".
"On income multiples, Barclays will lend up to 5.5 times income in certain scenarios but this will depend on a number of factors such as level of deposit, income levels and the amount of debt a customer might have," a Barclays spokesman said.
Aaron Strutt, of Trinity Financial mortgage brokers, said: "Lloyds is such a huge lender that there will be a void to fill, particularly as they have been keen to offer bigger mortgages for quite some time. Some of the other banks will see this as an opportunity to lend more money."
He said many lenders were offering mortgages over £500,000 and, providing the borrower met affordability criteria, they would offer up to five times income.
The CML is expecting the Bank of England to step in soon and change the territory for all lenders.
"The Bank of England has signalled that macro-prudential measures to limit the housing market upturn are likely in the near future, and possibly in the very near future," Mr Pannell said.
"Forthcoming measures will, in our estimation, be careful, calibrated, and proportionate, and designed to reinforce prudent affordability checks, rather than to apply the brakes to the housing market in a more dramatic fashion."
Related Internet Links
The BBC is not responsible for the content of external sites.