Bank of England 'more balanced' on rate rise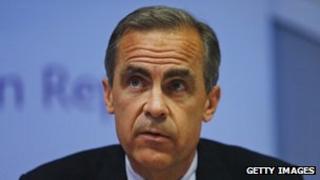 Some members of the Bank of England's Monetary Policy Committee (MPC) are softening their stance on raising interest rates, meeting notes suggest.
At the last MPC meeting on 7-8 May, members voted unanimously to keep rates at a record low of 0.5%.
But the meeting notes showed the views of some members on raising rates were becoming "more balanced".
Last week, governor Mark Carney said the bank was in no rush to raise rates, saying they may be low "for some time".
'Time is close'
However, buoyed by the improving economic output, "suggesting that the recovery had become less fragile", and by a pick up in wage growth, members were starting to reconsider their position on rates, the meeting notes suggested.
"For some members, the monetary policy decision was becoming more balanced," they said.
The case for moving rates "gradually and cautiously" was also reinforced by uncertainty over the potential impact of any rate rise, the notes said.
The BBC's economics editor Robert Peston said the notes showed that some members of the MPC "are beginning to think the time may be close for an interest rate rise".
But the notes said the committee would need to see a reduction in spare capacity in the economy before raising rates.
"In terms of the immediate policy decision, however, all members agreed that, in the absence of inflationary pressure, it would be necessary to see more evidence of slack reducing before an increase in Bank Rate would be warranted," the minutes said.