China's Lenovo sees 29% jump in full year net profit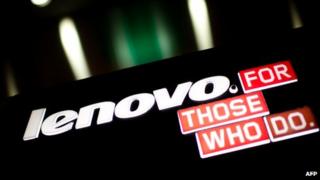 The world's biggest personal computer maker has reported a 29% jump in full-year earnings while at the same time extending its position as market leader in the PC industry.
Lenovo earned a record $817m (£485m) in net profit for the 12 months to March.
The company sold 55 million PCs during the year, extending its global market share to 17.7%, when the overall industry saw an 8% fall in PC sales.
Lenovo also sold 50 million smartphones and 9.2 million tablets.
The company's chairman and chief executive Yuanqing Yang said in a statement: "The record sales and profits that we delivered last year prove that Lenovo can grow and deliver its commitments, no matter the market conditions."
Lenovo also posted a record full year revenue of $38.7bn, which is a 14% jump from the year before.
Beating Apple
Lenovo rounded off its financial year with a strong performance in the fiscal fourth quarter. During the three months to December revenue from Europe, Middle East and Africa (EMEA) markets collectively surpassed revenue earned in its home market, China.
Group revenue in the fourth quarter jumped 14.3% to $38.7bn.
Also in that same quarter, Lenovo's PC shipments to the Americas surpassed Apple for the first time, pushing Lenovo to the number three spot with a 10.8% market share.
And the company is also outperforming the industry when it comes to smartphones - shipments grew nearly 60% in the three months to December, outpacing the worldwide market by 28%.
The latest results mark the fourth quarter in a row that Lenovo sold more tablets and smartphones than PCs, and it comes at a time when the company is making efforts to expand into smartphones to offset a decline in its once staple PC business as more and more consumers are switching to mobile devices.
This explains the company's $2.91bn (£1.8bn) acquisition of struggling US mobile phone company Motorola Mobility from Google earlier this year.
"Like many other vendors in the industry, Lenovo is faced with the challenge of a PC market that is under heavy assault from smartphones and tablets," says Bryan Ma from consultancy IDC Asia Pacific.
"It's true that Lenovo may be biting off more than it can chew by acquiring so many companies like Motorola Mobility and IBM's server business, but I see these as necessary - if long term - steps in the right direction.
"Motorola also gives Lenovo a much needed go-to-market route for phones into the US and Latin America, all with the protection of Google's patents."