'Vicar' of rugby union tends to player flock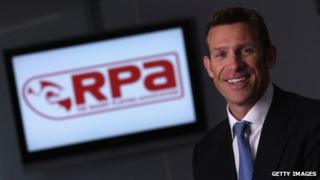 He was once known as the "vicar of rugby" and Damian Hopley, the chief executive of the Rugby Players' Association (RPA), continues to play a pastoral role in the sport.
The former theology masters student founded the RPA in the late 1990s, after injury forced him to quit the game aged just 26.
And it was the anger at being left financially, physically and mentally adrift by the sport that drove him to set up the RPA in the front room of his west London home.
"I was half an hour before getting on a flight to Hong Kong, to represent England in a sevens tournament, and a document was put in front of the players to sign," he recalls.
"It was an insurance waiver. But being 25 at the time I thought I was indestructible and would be playing for ever."
'Depressed'
But on England duty he damaged his anterior and posterior cruciate ligaments and cartilage, and after eight operations and a number of knee reconstructions he realised he would have to call it a day.
"I asked the RFU (governing body) what they could do for me - and they said in so many words 'go away'," says the former Wasps winger and centre.
As well as having to worry about finding a new source of income, he says his isolation left him feeling "fairly depressed" and losing self esteem.
He had the option of going back to a job in the City, where he had worked while the game was amateur, but started researching other sporting unions, and made contact with the Professional Cricketers' Association.
When he eventually put his idea of a rugby association for players competing in England, he found they were supportive of what he was hoping to achieve.
"I was so hacked off about what had happened to me, that I gave my all to making the RPA really work," says the 44-year-old.
The game he now serves is very different to what it was in 1998, when the sport had just left its amateur roots behind.
Back then rugby union did not have to grapple with many of today's issues - from mega-TV deals and finding players a new career when their pro days are over, to on-field matters such as the increase in concussion injuries.
The RPA is funded by player subscriptions, and financial contributions from the clubs and governing body the RFU. It also enjoys support from a number of big name brands and suppliers.
'Duty of care'
The RPA has eight player development managers around the country, attending to the needs of players.
"We feel there is a duty of care," says Hopley, who was capped three times by England at full level.
"The players have a right to receive support in a number of areas, including career development.
"We teach the players that it is never too early to make plans for their next career - that time off is about more than Xbox and meeting your mates.
"We make them realise the importance of education and training, in acquiring other skills and getting work experience; in using alumni, networking and building relationships."
He says athletes - but particularly rugby players, whom he acknowledges are "very fortunate to come from a relatively privileged background" - are in a great position to network in a number of fields such as business and education.
As well as careers, the RPA also looks to be forthright in pointing out potential moral and lifestyle pitfalls for players.
"We do not get the same media interest as football, but we have still hit the headlines for the wrong reasons - we had 'Bloodgate', and the Bath drugs story," he says.
"We are trying to be proactive. All we can do is invest in education - gambling and drugs awareness, and concussion awareness programmes.
"But one change from my era is that the drinking culture is not what it used to be.
"Players put such rigours on their bodies nowadays that that lifestyle could not continue. Their bodies are places of work."
National fervour
Hopley believes the 2015 Rugby World Cup in England should provide a great impetus for the sport on both the playing and viewing front, not only in the host nation but also Wales, Scotland and Ireland.
"But England have to do well," he cautions. "We have to get out of our group, but there is a pressure in playing at home."
He points to the Euro 96 football championship as something that could be emulated, when the England football team built a strong national fervour and were within a whisker of reaching the final.
Looking ahead, he is pleased that the years of uncertainty around the top club tournament in rugby union has been resolved, with the European Rugby Champions Cup (ERCC) set to replace the Heineken Cup from next season.
But he also sees a number of issues that need addressing, including the growing number of head injuries.
"Concussion is now the the most common injury in the sport," he says. "It is down to players being bigger, faster, stronger, fitter. We have to look at addressing this, whether it be through bigger squads or shorter seasons."
While he looks for such change around the playing side, off the pitch, rugby revenues are swelling due to a number of high-profile TV deals.
BT Sport and Sky have slugged it out over broadcasting rights, with big deals being signed in the past 18 months for the Aviva Premiership and the ERCC.
But it is not just in this country that the sport has won big TV deals.
And Hopley warns that the new television money splashed out to show France's Top 14 league could be a lure for the best players in England to cross the Channel.
Managing and dealing with such changes, and helping rugby union to become a truly 21st Century sport and industry, is all part of his role, he says.
He adds: "I want to see a national game that is well managed, effectively run, while trying to marginalise the self-interest that sometimes pervades."