CBI: Scottish referendum foremost issue for UK businesses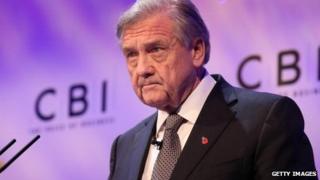 The Scottish referendum is the "foremost issue for businesses" in the UK, the head of the business lobby group, the CBI, will say later.
In a speech this evening, Sir Mike Rake will say that the case has not been made that an independent Scotland would be better for the economy.
"It is difficult to see how independence would be better for investment and jobs," he will say.
He is also set to highlight the importance of the European elections.
Sir Mike will tell the CBI annual dinner that while the decision on independence is for the Scottish people to take, the CBI would continue to raise economic questions on the issue.
"The CBI has the right and duty to ask the difficult questions about issues which affect our members' interests and this country's economic future," he is expected to say.
"The effects of the decision will be felt by others, including businesses - not just in Scotland but in Wales, Northern Ireland and England," he will add.
However, his comments were dismissed by Business for Scotland, a group supporting a Yes vote in the Scottish referendum.
The group said that "more and more businesses here see the opportunities that independence offers them".
"They see that Scotland's economy will thrive in the hands of a Scottish Government that understands its needs," it added.
Open markets
The CBI had originally registered as a campaigner against Scottish independence, but the application was later nullified by the Electoral Commission.
Most of Scotland's universities, several quangos, the Law Society of Scotland and two businesses - Aquamarine Power and Balhousie Care Group - left the organisation as a result of the initial decision to campaign for a "No" vote.
Sir Mike will also argue that the second major risk for business is Britain's place in the EU.
"Open markets are an essential part of our open economy," he will say.
"We cannot be our best when in isolation."
On the question of a referendum on EU membership he will say that even the possibility of having it has caused uncertainty in business and that while membership has its frustrations, the advantages far outweigh the disadvantages.