UK inflation rate rises to 1.8% in April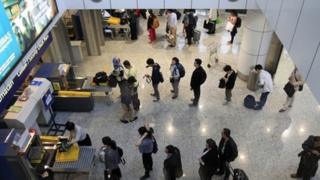 Higher fares for flights and ferries helped to push the rate of inflation up in April, the first increase in the rate for 10 months.
The Consumer Prices Index, rose to 1.8% in April from 1.6% in March, according to the Office for National Statistics.
The ONS said the timing of Easter, which fell in April this year, was likely to have had an impact on travel costs.
It said the cost of petrol was also higher than the same month a year ago.
The increase in travel and fuel costs were offset to some extent by a fall in the cost of food.
April's rise in the CPI rate suggests that the cost of living is once again increasing faster than wage rises. The most recent figures on earnings showed that they rose at an annual rate of 1.7% in the three months to March.
However, Ben Brettell, economics editor at stockbrokers Hargreaves Lansdown, said he still expected wages to outpace inflation in the long term.
"It looks like we could see a period of modest real wage growth with wages increasing marginally faster than prices over the next year or so."
The rate of inflation as measured by the Retail Prices Index (RPI) was unchanged at 2.5%, the ONS said.
Rise 'a blip'
Despite the increase in the CPI inflation measure, the rate is still below the Bank of England's 2% target for inflation.
Last week, Bank of England governor Mark Carney said he expected the rate of inflation to remain below its target for the next two years.
Capital Economics economist Samuel Tombs said the rise in the rate was "a blip" due to the timing of Easter.
"We continue to think that Consumer Price inflation should ease to as low as 1% by the end of this year and remain comfortably below the 2% target in 2015," he said.