Marks and Spencer cancels bonuses after profits fall again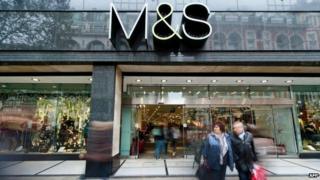 Bosses and staff at Marks and Spencer will receive no bonus after profits fell for a third consecutive year.
The retailer reported a 3.9% fall in underlying annual profit to £623m - the lowest level since 2009.
M&S also said that group sales rose by 2.7% to £10.3bn in the year to 29 March.
Like-for-like UK food sales, which strip out the effect of new stores, rose 1.7%, while general merchandise - which includes clothing - fell 1.4%.
Chief executive Marc Bolland said: "There are no bonuses this year."
The announcement will apply to all 82,000 M&S employees from the boardroom to the shopfloor.
It is the first time since joining the firm in 2010 that Mr Bolland has missed out.
Last year he received a cash and shares bonus worth £829,000, taking his full package to £2.1m.
Mr Bolland told BBC Radio 4's Today programme that since he took the helm in May 2010, there had been heavy investment to make the retailer "fit for purpose".
"It [rising profit] takes a while to follow. We are improving step by step," he said.
"General merchandise is not yet satisfactory. But a lot of the heavy lifting has been done."
The results mean that annual profits at 32-year-old High Street rival Next, which earlier this year reported profits of £695m, have overtaken 130-year-old M&S for the first time.
Online growth
M&S said the clothing market was "challenging" and blamed "unseasonal conditions" and "high levels of promotional activity" for the drop in full year general merchandise sales.
However, the firm said its clothing sales had returned to growth in the final three months of the year, marking the first time in three years that sales have increased.
It said it had also now "refreshed" the womenswear departments in its top 70 stores.
M&S clothing department has been struggling in recent years as sales have fallen.
It hired Belinda Earl, the former chief executive of Debenhams and Jaeger, as head of style in 2012.
Ms Earl was charged with regenerating Marks' reputation among its core, female fashion customers.
M&S also said its new website, launched earlier this year, would take four to six months to "settle in".
However, it said online sales had risen 23% in the year, outperforming the overall market, with 55% of these purchases now picked up in store.
It said it had also outperformed the overall market on food sales, with the rise in like-for-like sales in the three months to the 29 March marking its 18th consecutive quarter of growth.
International sales rose 6.2% as M&S opened 55 new stores in the year.