Financial Ombudsman says 'record' year for financial disputes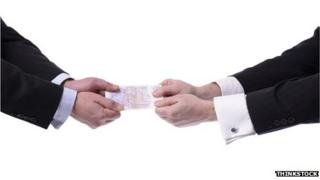 The number of consumer-related financial disputes reached a record in the year to March, according to the Financial Ombudsman.
The body, which acts as an appeals service for customers who feel a claim has been turned down unfairly, settled 518,778 disputes, more than double last year's figure.
In 58% of cases it found in the consumer's favour.
Three quarters of the complaints relate to Payment Protection Insurance (PPI).
The number of PPI complaints rose 6% to 399,939 but the ombudsman said the amount of cases coming in per week had dropped to 6,000 - compared to 12,000 per week a few months ago.
PPI is a policy designed to help repay loans and credit card debt in the event of illness, redundancy or death. It was mis-sold to millions of people and compensation paid out by the banks has already exceeded £14bn.
'Unprecedented'
"It's been an unprecedented twelve months for the ombudsman by anyone's standards," said the chief ombudsman Tony Boorman.
"Complaints continued at record levels - and we resolved over half a million cases during the year," he added.
The Financial Ombudsman is free to consumers and is funded by a levy on the financial services industry.
The biggest jump in complaints was over packaged bank accounts - they rose from 1,629 to 5,667.
Packaged bank accounts - sometimes called "paid-for" bank accounts - usually charge a monthly or annual fee and often include a range of insurance benefits , car breakdown cover and preferential rates on overdrafts and loans.
The body that represents the banks, the BBA, said: "Banks have been responding quickly to this increased level of complaints to resolve any issues for customers."