Banking standards oversight body to be set up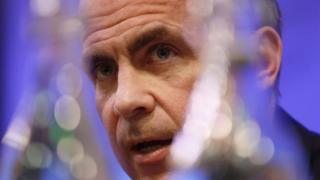 The UK's main banks have agreed to report each year on their behaviour and competence and to set up an independent body to oversee the industry.
The measures, set out by former CBI chief Sir Richard Lambert, include training programmes for bankers.
The new Banking Standards Review Council (BSRC) will be funded by the banking industry.
Barclays, HSBC, Lloyds, RBS, Santander, Standard Chartered and Nationwide have accepted the proposals.
A panel chaired by Bank of England governor Mark Carney will appoint the chairman of the BSRC. Membership of the new body will be voluntary.
Mr Carney said: "I encourage all banks that operate in the UK, both domestic and foreign, to support this endeavour.
"We need a financial system that is safe, fair and acts with integrity."
'Oxygen of publicity'
The banking sector has been dogged by stories of mis-selling and interest rate-rigging over the past few years.
Since 2011, banks have incurred costs of more than £20bn for misconduct, according to Sir Richard's review.
The banks involved in the programme will look at criteria including the competence of staff, the culture within the bank, and the effects of banking practice on customers. They will then self-report to the BSRC.
"This new body... will set out what good practice looks like, and encourage, chivvy, nudge, [and] bully banks to take it forward," Sir Richard told the BBC.
Nevertheless, the BSRC will not have powers to independently verify the banks' reports, or to impose any sanctions.
"The teeth and the sanctions will lie with the regulator," he said. "This body will only have the oxygen of publicity."
Business lobbying organisation the CBI said that getting banks to commit to public reporting on standards was a "sensible way forward".
"With the political and regulatory spotlight now firmly on conduct, a swift and positive response from the banks to these proposals, combined with changes already underway, should help to rebuild trust in this important sector over time," said CBI deputy director-general Katja Hall.
Accountancy professional body the ICAEW said that "without effective disciplinary teeth, it [the BSRC] may fall short of expectations".
Iain Coke, the head of ICAEW's financial services faculty, said: "There is a huge danger that this new council will struggle to demonstrate its relevance."