Ongoing political conflict slows down Thai economy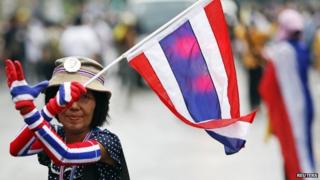 Thailand's economy shrank in the first quarter of the year as the political struggle affected businesses at home and deterred foreign investors.
Gross domestic product (GDP) contracted by 2.1% in the three months to March compared with the previous quarter.
On an annual basis, the Thai economy shrank by 0.6%.
A combination of falling investment, lower exports and a drop in household consumption affected the economy.
The data comes less than two weeks after Thailand's constitutional court removed Prime Minister Yingluck Shinawatra from office, along with nine Cabinet ministers.
Thailand has experienced political deadlock and protest campaigns which started in November last year, and they have shown little sign of letting up.
Most of the protests took place in the streets of the city's capital Bangkok, crippling businesses in the area.
Tourism accounts for about 10% of Thailand's GDP and visitor arrivals have fallen steadily since the start of the year.
The president of the Thai Hotels Association said earlier this year that occupancy rates at hotels which are part of the association had dropped to as low as 45% from the usual average of 90%.
The state planning agency - the National Economic and Social Development Board - has revised the country's growth figures in the final quarter of last year down to 0.1% from 0.6%.
It left the year-on-year growth rate for the final quarter of last year unchanged at 0.6%.
The agency has also cut its growth outlook for 2014, forecasting an expansion between 1.5% to 2.5%. That is lower from a previous estimate of 3-4%.
'Below potential'
Rajiv Biswas, chief economist for Asia Pacific at consultancy firm IHS, estimated that "the Thai economy will grow at just 1.9% in 2014, far below its potential growth rate of 4% to 5%".
"In real terms, this means that around $8bn-$10bn of economic growth has been lost in 2014."
Among the major economies in Southeast Asia, Thailand appears to be the only one that is contracting.
Malaysia has reported an annual growth of 6.1% in the first quarter. Meanwhile Indonesia saw an expansion of 5.2% year-on-year in the first quarter.
Technical recession?
Economists are not confident the Thai economy will be able to stage a turnaround in the next few months.
"Chances are we are going to see another technical recession in the economy, given that the second-quarter GDP number is likely to be poor as well," said Gundy Cahyadi, an economist with DBS Bank in Singapore.
Mr Biswas added: "The protracted political turmoil and deep political divisions in Thailand are resulting in deteriorating investor confidence in the Thai economy, and there is little reason for optimism that the political situation will stabilise anytime soon.
"The growth outlook for 2015 is also at risk of being downgraded due to the ongoing political crisis."