Pfizer in new 'final' offer for AstraZeneca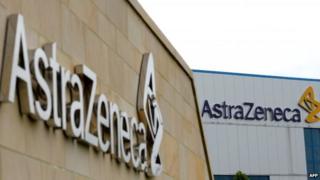 US drugs giant Pfizer has made an improved offer for the UK's AstraZeneca as it tries to tie up the largest foreign takeover of a UK company.
The new offer of £55 per share would value AstraZeneca at about £69bn.
The offer constitutes a 15% increase from Pfizer's proposal on 2 May and is final and cannot be increased, it said.
It also promised not to mount a hostile takeover - a direct approach to shareholders of AstraZeneca without the involvement of its board.
Shareholders are now being offered £24.76 in cash and 1.747 shares in the new firm - worth a combined £55 - for each share currently they hold.
"What we've learned tonight is that there were talks over the weekend and actually Pfizer made a tentative approach of £53.50 but was told by AstraZeneca this in their view substantially undervalued the company," said BBC chief economics correspondent Hugh Pym. "I think there's a game of poker going on here."
Pfizer plans to create the world's largest drug company, with its headquarters in New York, but based in the UK for tax purposes.
That plan has proved controversial with unions and politicians, with AstraZeneca employing 6,700 people in the UK.
In a grilling from MPs last week, AstraZeneca's French boss Pascal Soriot argued a takeover would harm its development of life-saving cancer drugs.
The US firm has argued that it plans to retain at least 20% of the combined companies' research and development workforce in the UK for at least five years and base its European HQ in Britain.
Pfizer chief executive Ian Read said in the new offer statement: "We stand by our unprecedented commitments to the UK government."
He also said the two companies had a "conversation" earlier that day, but that AstraZeneca was not, in his view, "currently prepared to recommend a deal at a reasonable price".
Veto powers
Opposition leader Ed Miliband claimed the assurance from Pfizer on jobs was "worthless".
The government has powers to veto certain deals, such as those involving defence and media companies, and apply a "public interest test". But this is rare, and its scope to intervene is also limited by the European Commission.
The backlash has even extended to the US, where Senators Carl Levin and Roy Wyden are looking to close the tax loophole that Pfizer plans to use.
In a strategy known as "tax inversion" Pfizer could pay the UK corporate tax rate of 20%, rather than the 35% rate applied in the US, if it bought AstraZeneca.
Unions and academics have been vocal in their unease with the US firm's plan.
Speaking before both AstraZeneca and Pfizer's bosses argued their cases to members of parliament last week, the President of the Royal Society, Prof Sir Paul Nurse, told the BBC that Pfizer's five-year commitment to maintain research and jobs was "vague" and insufficient.
Sir Paul, who has submitted written evidence to the MPs, said: "Research is a long-term business. I have researched for 40 years of my life. I know that five years is not long enough term to be committed to.
The GMB union has pointed to the takeover of Cadbury by US rival Kraft, which closed a UK factory in spite of assurances on jobs.
Parliamentarians gave Mr Read a hard time when he gave testimony to the Business Committee on 14 May. Adrian Bailey, chairman of the committee, asked Mr Read to respond to claims that Pfizer was like a "praying mantis" and a "shark that needs feeding".
Mr Read told the committee he was not concerned about an attack on the company by Swedish Prime Minister Fredrik Reinfeldt, who referred to "negative experiences" after Pfizer took over Pharmacia.