Chipotle shareholders reject executive pay plan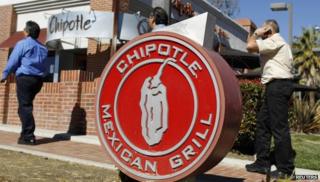 Shareholders in Mexican fast food chain Chipotle have rejected the company's executive pay plan, with 77% voting against the proposal.
Last year, co-chief executives Steve Ellis and Montgomery Moran were paid $25.1m (£15m) and $24.4m respectively.
Chipotle has more than 1,600 stores, making it one of the fastest-growing restaurant chains in the US.
The vote against the proposal is non-binding.
"We take this very seriously," said Chipotle in a statement.
"It has always been, and continues to be, a top priority that our compensation programs are driving the creation of shareholder value."
Dieter Waizenegger, chair of CtW Investment Group, which works with union pension plans and had advised shareholders to vote against the plan, said: "Chipotle's unbalanced approach to human capital management poses unacceptable risks to shareholders."
CtW said the vote - with 77% against - was the highest vote against chief executive pay of US firms this year.
The rejection comes as renewed focus is placed on rising income inequality in the US, with labour campaigners increasingly focusing on executive pay plans.