The property hotspots loved by 'yuppies'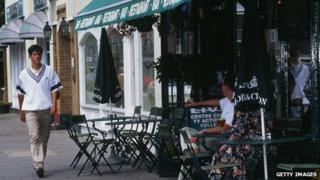 Young urban professionals - a group known back in the 1980s as "yuppies" - are flocking to a limited number of property hotspots, says new research.
They are also not put off by the higher prices in their favourite haunts.
In the smarter parts of Manchester, Bristol and Birmingham they spend at least 50% more than people who buy elsewhere in the area.
But the research, by Lloyds Bank, shows that a yuppy's true spiritual home is Wimbledon, in south west London.
Indeed half of the most popular areas for the whole country are in London's SW postal district.
The research was based on figures for England and Wales from the Land Registry.
It ranks the number of home purchases made by career-minded 25 to 44 year-olds.
It also shows that when yuppies buy a property, they pay a typical premium of as much as 63% over other homes in the same city.
Top towns for yuppies
Town
Postal district
Region
Average price paid (£)
Price premium
Wimbledon
SW19
London
534,999
13%
Hove
BN3
South East
287,968
-11%
Didsbury
M20
North West
221,989
55%
Clifton
BS8
South West
335,202
50%
Cambridge
CB1
East Anglia
323,509
0%
West Bridgford
NG2
East Midlands
227,964
48%
Ecclesall/Hunter's Bar
S11
Yorks and Humber
214,614
39%
Jesmond
NE2
North East
236,159
37%
Harborne
B17
West Midlands
249,382
63%
Cardiff Central
CF24
Wales
178,366
-7%
However, excluding the smarter parts of Hove and Brighton, all the most popular area for yuppies are in London.
Many are to be found along the more southerly reaches of the Northern Line, which bisects the capital.
Back in the 1980s, when the yuppy word was coined, some even had their own alternative pronunciations.
Battersea, traditionally a working class part of the capital, was pronounced in a way that rhymed with Mercia, or was otherwise known, pretentiously, as South Chelsea.
Top yuppy locations in London
Area
Postal district
Average House price £ (12 months to Jan 2014)
Wimbledon
SW19
534,999
Fulham
SW6
936,437
Wandsworth
SW18
585,008
Battersea
SW11
732,224
Streatham
SW16
334,500
Hampstead
NW3
1,163,585
Tooting
SW17
512,067
Paddington
W2
1,083,684
Kilburn
NW6
747,062
Putney
SW15
624,676
Balham
SW12
615,213
The typical profile used for the research involved young graduates, with professional qualifications, who are well paid, and choose to live in a city.
House price calculator
Use our calculator to see where you can afford to rent or buy