Housing starts rise by a third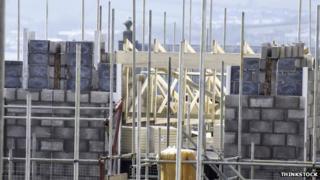 The number of new houses being started by builders in England has risen by 31% over the last year, according to new government figures.
The period coincides with the first year of the government's Help to Buy programme, which began in April 2013.
However the number of new homes actually being completed only rose by 4% over the year.
The government has hailed the success of the programme, but housing charities said still more homes were needed.
In the year to the end of March 2014, builders started 133,650 new homes, the highest number for six years.
The Communities Secretary, Eric Pickles, said things had changed since 2010, when builders could not build, and buyers could not buy.
"Today's figures show we're turning this around, with Help to Buy not only helping aspiring homeowners but also leading to a resurgence in house-building," he said.
'Build more'
However the number of homes being finished - known as completions - has fallen steadily since before the financial crisis.
The figures, from the Department of Communities and Local Government (DCLG) show completions have been "broadly constant over the last three years".
Indeed, on a seasonally adjusted basis, they fell by 3% between the last quarter of 2013, and the first quarter of 2014.
The housing charity Shelter said the country was still building less than half the homes it needs.
"Everyone agrees that we need to build more homes, but sticking plaster solutions like Help to Buy, or tweaks to planning rules will never tackle the hole in our housing market," said Campbell Robb, Shelter's chief executive.
Earlier this week the governor of the Bank of England, Mark Carney, suggested that building more homes was the best way to curb surging house prices.