Wal-Mart blames cold weather for fall in profits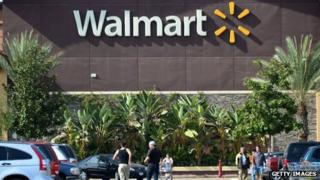 The world's largest retailer, Wal-Mart, has reported a fall in profits due to particularly cold winter weather.
Net income for the three months to the end of April was $3.58bn (£2.13bn; 2.62bn euros), down 5% on a year ago. Net revenue was up slightly at $115bn. Both fell short of analysts' forecasts.
As a result, Wal-Mart shares fell almost 2% in early morming trading.
The retailer also announced a 0.1% rise in like-for-like sales over the period at its UK supermarket business Asda.
Last week, UK rival Morrisons announced a sharp fall in like-for-like sales, which strip out the impact of sales at new stores.
Asda also said it was reviewing the roles of more than 4,000 managers with a view to creating more roles in store.
'Confident'
Wal-Mart said that like-for-like sales at its own stores were flat during the three month period.
"Like other retailers in the US, the unseasonably cold and disruptive weather negatively impacted US sales and drove operating expenses higher than expected," said group chief executive Doug McMillon.
"Wal-Mart's underlying business is solid, and I'm confident in our long-term strategies."
The company forecast higher earnings per share for the current three-month period - $1.15-$1.25 compared to the $1.10 posted during the last quarter.