Confidence rises among export firms, BCC business group says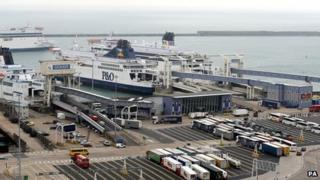 Two out of five firms that export goods or services are looking to hire more staff amid improving confidence, according to a survey.
A British Chambers of Commerce (BCC) poll of 2,600 companies also found that 71% expected their turnover to increase over the next few months.
The government has a target of increasing exports by £1tn by 2020
BCC director general John Longworth said that the current volume of exports was at an all-time high.
However, he said that more government support was needed if it is to meet its £1tn target.
"Our exporters are selling more and hiring more, showing ambition and willingness to export and grow their business," Mr Longworth said.
"They are taking advantage of the opportunities on offer when breaking into new markets and it is great to see that the volume of exports is now at an all-time high."
The government has introduced new export initiatives, including a new export credit scheme. But the BCC said more needed to be done to help open markets and build business relationships.
Last month, a BCC report found that the UK service sector's exports were at record levels in the first quarter of 2014.
Trade Minister Lord Livingston said on Thursday: "The BCC survey is the latest evidence that exporting is very important to economic growth.
"We are working hard to boost our export performance, but there is still more to do. That's why increasing support for small and medium-sized companies is a vital part of the government's long-term economic plan to create jobs and reduce the deficit."