Airbus orders slump in first quarter but profit rises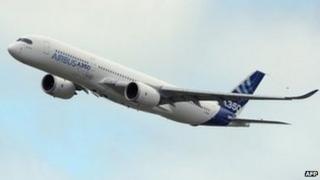 Europe's largest aerospace group, Airbus, has reported a sharp drop in jet orders in the first quarter of the year, but profits nearly doubled.
The company recorded 103 orders in the three-month period totalling 21.1bn euros ($28.9bn; £17bn), down from 410 orders a year earlier.
However, net income jumped by 93% to 439m euros, thanks in part to favourable foreign exchange effects.
Last year's results were also hit by a one-off negative charge of 131m euros.
Overall sales rose 5% in the quarter to 12.6bn euros, from 12.1bn euros a year earlier.
Chief executive Tom Enders reiterated his expectation for a stable 2014 compared with last year, but warned the firm faced "many challenges" and would focus on "improvement and restructuring plans".
The group, previously called EADS, confirmed plans for 5,800 job cuts as part of the restructuring of its defence and space business.
Airbus said its A350 long-range jet, which has been beset by years of delays and cost overruns, should be in service by the end of the year.
Chief financial officer Harald Wilhelm said the plane, which is a competitor to Boeing's 787, was now in a "critical phase".