RBS US subsidiary Citizens in public share sale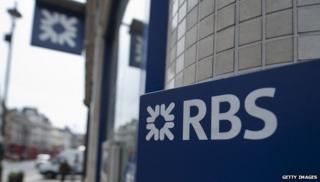 The Royal Bank of Scotland (RBS) has announced plans for a public share sale of part of its US subsidiary, Citizens Bank, later this year.
Analysts said the deal could raise up to $4.6bn (£2.75bn). The bank announced plans for a share sale last autumn.
It bought Citizens for $440m in 1988, and subsequently turned it into one of the biggest regional banks in the US.
Since being bailed out by the UK government in 2008, RBS has been under pressure to sell its foreign holdings.
The bank released profit figures earlier this month. They showed pre-tax profits of £1.6bn for the three months to the end of March, almost double the profit recorded in the same quarter a year earlier.
But the bank warned it faced a "tough year" ahead as it continued to deal with the cost of restructuring the business and expected regulatory fines.
It expects more fines and damages for mortgage mis-selling in the US.
'Stress tests'
Citizens has more than five million customers and assets of $122.2bn. It has almost 1,400 branches across 12 US states.
Last January, RBS agreed to sell Citizens' Chicago branches to US Bancorp, which represented about 6% of all of Citizens' deposits at the time.
However, RBS sale plans were thrown into question when its Citizens unit failed a series of "stress tests" by the US Federal Reserve (Fed) in March.
For the first time, the Fed had subjected the US subsidiaries of foreign banks to the tests, which are meant to ensure that banks have enough capital on hand to withstand another financial crisis.
The chief executive of RBS, Ross McEwan said: "The divestment of Citizens is a key component of our plan to continue to strengthen RBS's capital position. The achievement of our capital plan will allow us to focus fully on the needs of our customers.