HSBC bank launches free wi-fi in hundreds of branches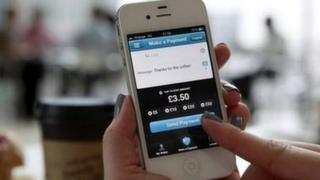 Free wi-fi has arrived in hundreds more bank branches as HSBC moves to encourage customers to manage their accounts on smartphones.
Some 650 hotspots will help customers download and use the bank's app, and start making payments by phone.
However, security experts have warned users of public wi-fi to be careful.
Europe's senior police officer dealing with cybercrime recently cautioned against sending sensitive data via public wi-fi because of hacking risks.
HSBC's move comes after Barclays launched free wi-fi in its 1,600 branches early last year.
HSBC said more customers were asking about how to bank on the move. Easy internet access will make branches more useful, it said.
In particular, the bank plans to demonstrate the new Paym service, which will allow customers of most major banks to pay friends and businesses using just a mobile phone number.
However, there is growing concern about cyber-thieves. Some "insert" themselves between the user and a hotspot to gather valuable data. Others pretend to be the wi-fi service the user is looking for.
"As people find that connectivity is more common, they assume that it is secure," said Wil Rockall, an internet security specialist at business services group KPMG.
"Once they have got your details, they can clear out your account or use it to pay for goods," he said.
The head of Europol's cybercrime centre, Troels Oerting, told the BBC in March that there had been an increase in the misuse of public wi-fi to steal personal information and money.
He suggested people should send sensitive information from home, where they are familiar with their wi-fi and its security.
An HSBC spokeswoman said the bank was using the latest and most secure protocols to protect users.
She warned that customers should be careful to make sure that they are connected to the HSBC-wi-fi hotspot, to make sure a cyber-attacker is not posing as the bank.
She said customers should check that they are directed to the correct HSBC branded landing page with the bank's terms and conditions.
'Illegitimate wi-fi'
Richard Horn, cyber-security partner at consulting firm PWC, said the greatest worry is about browsing the internet, rather than using banking apps, which are likely to be secure.
"The danger with illegitimate wi-fi is that it can sit in the middle of your browser activity, so be cautious if you can't be confident in the provider," he warned.
Barclays admits that there is a potential risk of information being intercepted while using open public networks.
It urged users to look for the closed padlock symbol once they get to the website landing page, which shows that the service really is BT wi-fi and that the security is working.
HSBC's wi-fi will be available on a "click and connect" basis, so users will not need to log on.
Some could find they can take advantage of it while standing outside the branch, although that will depend on the signal strength.
The bank said that if the feedback is positive, it will roll out the service to more of its 1,132 branches.