Now TV confirms refund for customers after Premier League problems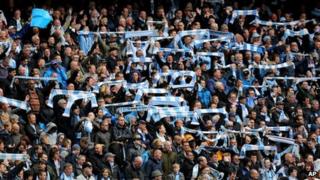 Now TV, an internet streaming service powered by Sky, has said it will refund customers after a number of people experienced viewing problems during the final day of the Premier League season.
Angry users took to Twitter to complain about the problems.
Issues included interruptions and an "oops something went wrong" message.
The firm apologised and said it would be "contacting all sports pass customers automatically to provide a refund or a replacement pass".
"You don't need to do anything to make this happen," it said.
'Up and running'
The company also said the problem - which affected viewing for about an hour - had not affected all customers, adding: "The service is now back up and running. We're really sorry for any interruptions to your viewing this afternoon.
"We'll keep you updated on what we're doing to make things right via this topic."
Now TV allows customers to pay per day to watch extra Sky services. Sky said it "did not disclose customer numbers for Now TV", therefore it is not possible to say how many people were affected.
One user tweeted: "What is going on?! Paid for a day pass and now nowtv isn't working!!!"
Another said: "Can't believe @nowtv crashed 1 minute before kick off."
Investigation
A Sky spokesperson said: "We're sorry that some customers were unable to watch Sky Go or Now TV for around an hour this afternoon and we apologise for any frustration that caused.
"Our technical teams worked to restore the service for everyone as quickly as possible."
The company said it was still "investigating the issues experienced and while we're looking into it can't give any further details at this stage".
The firm's reaction came as Manchester City were crowned Premier League champions after beating West Ham United on the final day of the season.