CBI predicts rate rise to 0.75% in early 2015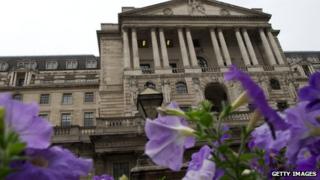 UK interest rates will rise to 0.75% from 0.5% in the first three months of 2015 as growth picks up, according to a prediction from the CBI.
That has been brought forward from an earlier prediction of a rate rise in the July to September period.
The business lobby group is forecasting growth of 3% this year, up from a previous estimate of 2.7%.
However the CBI warned that political uncertainty remained "a major risk to the recovery".
"Businesses recognise the realities of election time but want all parties to ensure their policies make a positive difference," said CBI director-general John Cridland.
"Politicians must be wary of the risk of headline-grabbing policies that weaken investment, opportunity and jobs," he added.
In addition to an increased forecast for growth this year, the CBI is also expecting 2.7% growth in 2015 - an increase from a previous estimate of 2.5%.
Speaking on BBC Radio 5 Live, Mr Cridland said an increase in business investment accounted for the improved outlook.
"We're sensing entrepreneurs across the whole economy - service, manufacturing, exporters - and even the domestic economy feeling more confident [and] making more investment," he said.
The CBI joins both research organisation the National Institute of Economic and Social Research (NIESR) and the Organisation for Economic Co-operation and Development (OECD) in upgrading growth forecasts for the UK.
NIESR also said that the UK economy was close to regaining its pre-financial crisis level of economic activity.
House price inflation
The CBI called for the government to scrap the migration target and for a push on housing supply to "to meet the urgent need for homes".
"We have to remain alert to the risks posed by unsustainable house price inflation," said Mr Cridland.
"While housing transactions are still running almost 30% below their last peak in 2006, they are picking up steadily."
He also noted the discrepancy between London and the rest of the UK, arguing that London's recent rises had been fuelled by foreign cash buyers.
"Outside London, prices remain around 2% below peak figures with an even greater difference when you move outside the South East [of England]."
The CBI represents business leaders across the UK.