Airline group IAG narrows losses as Iberia improves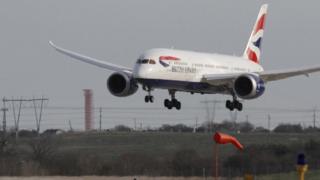 British Airways owner IAG has narrowed its losses for the first quarter of the year, helped by an improved performance from its Spanish airline Iberia.
Its operating loss fell to 150m euros ($207m; £123m), compared with a 589m euro loss a year ago.
IAG chief executive Willie Walsh said that losses at Iberia had almost halved in the quarter.
Passenger numbers across IAG increased by 38% to 6.4 million in April, up from 4.6 million in the same period last year.
Many airlines report a loss in the weaker first part of the year and make the bulk of profits in the summer.
Iberia "continues to benefit from restructuring", and British Airways has "increased capacity within a controlled cost environment", Mr Walsh said.
Iberia restructuring costs hit the airline group with a 311m euro charge in the first quarter last year.