Bank of England holds UK interest rates at 0.5%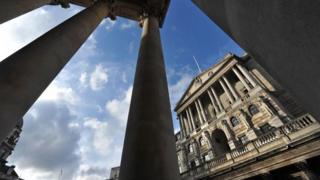 UK interest rates have been held at the record low of 0.5% for another month by the Bank of England.
The Bank also kept the size of its bond-buying economic stimulus programme unchanged at £375bn.
The news is in line with analysts' expectations, despite recent evidence that the UK economic recovery is strengthening.
Worries about rising house prices in parts of the UK have intensified the debate over when rates might increase.
The Bank's Monetary Policy Committee (MPC) have kept rates at the historic low of 0.5% for more than five years, amid worries that the finances of many individuals and businesses remain too weak to withstand a rise.
But the pace of economic recovery is picking up, and last week the Organisation for Economic Co-operation and Development (OECD) raised its UK growth forecast for this year from 2.4% to 3.2%.
The OECD did, however, sound a warning that the housing market could be overheating. It said that the UK government should consider restricting access to the Help to Buy scheme, which provides mortgage guarantees and loans to people struggling to find deposits on homes.
The British Chambers of Commerce said on Thursday that a rate rise soon would be "premature".
BCC chief economist David Kern said: "The decision to maintain interest rates and quantitative easing was unsurprising and appropriate.
"Businesses need clarity that encourages them to increase investment, and at the moment the MPC is delivering this. However its efforts are hampered by repeated calls for interest rate rises whenever a piece of positive news is published.
"Such a move would be premature. The MPC should instead strengthen the clarity of its forward guidance message."
'Blunt instrument'
Many economists have pencilled in a rate rise early next year. The Bank hinted in February that the second quarter of next year was a possible timeframe.
However, Scotiabank economist Alan Clarke said that if wages continue to pick up, then a rise could come before Christmas.
Martin Beck, senior economic adviser to the Ernst & Young ITEM Club, said: "The pound's continued climb and subdued inflation expectations, also, point to benign prospects for inflation in the near-term.
"The Bank is likely to use its macro-prudential tools, possibly as soon as June's meeting of the Financial Policy Committee, before deploying the blunt instrument of an interest rate rise.
"Next week's Inflation Report should provide more enlightenment, pointing, in our expectation, to rates remaining very low for some time yet."