More permanent jobs created in April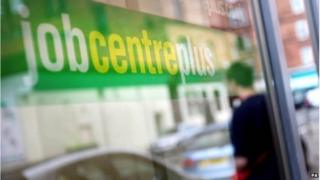 The number of permanent roles filled in the UK grew in April compared to a month earlier, according to a report.
But the rate of expansion was slower than a peak seen in February this year, which was the fastest expansion in nearly four years.
There was also a shortage of skilled people for new positions as workers preferred to stay with their current employers.
Demand for workers was "strong", said the study by Markit.
"The number of people putting themselves on the jobs market has dropped at its sharpest rate since 2004," said Bernard Brown, partner and head of business services at KPMG, which sponsored the study.
"It is this shortage of skilled labour that is forcing employers to tempt talent with improved pay," he added.
Markit, a financial data firm, gathers its data from a panel of 400 UK recruitment firms.
About half of the respondents noted an increase in placements, compared with about 19% who signalled a decline.
The firm's index rose to 63.8 in April from 62.6 in March. A score above 50 indicates a higher number of placements than the previous month.
Permanent staff in engineering, medicine including nursing, the financial sector and construction were the most in demand.