British Gas: No price rise in 2014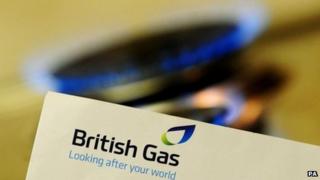 British Gas owner Centrica has said it expects to leave household energy prices unchanged for the rest of the year, despite a squeeze on profits.
The energy giant said that its full-year earnings would be lower than expected, an announcement that pushed down shares in early trading.
However, it added that competition in the industry would ensure household energy prices remained unchanged.
Average bills were 10% lower this winter because of the milder weather.
The company said that average consumption of gas and electricity was down by 25% and 10% respectively in the first four months of the year.
Residential prices
Centrica's chief executive Sam Laidlaw said that earnings were anticipated to fall in 2014 but to pick up again in 2015, assuming there were more "normal" weather conditions.
But the company, which ended last year with 15.2 million customer accounts, said that fierce competition, including from smaller suppliers, meant it had lost 180,000 residential accounts in the year so far. It added that it was unlikely to increase prices.
"Assuming that energy market conditions remain benign, and recognising the competitive conditions in the UK energy supply market, we do not currently expect to change our residential energy prices during 2014," it said.
British Gas raised its prices for its dual-fuel customers by 9.2% in November. That included an 8.4% increase in gas prices and a 10.4% rise in electricity prices. It then reduced dual fuel prices by 3.2% on 1 January owing to the government's reduction of green levies.
Competition has come from suppliers such as Ovo, which said it would offer a sub-£1,000 dual fuel bill if customers fixed for 12 months.
In March, SSE, one of the so-called "big six" energy firms, said it would freeze domestic gas and electricity prices until 2016.
Centrica also said it was searching for investors into three of its big gas-fired power plants at Langage, Killingholme and Humber which had been losing money owing to the high spread between gas and power prices.