Morrisons sees sharp fall in sales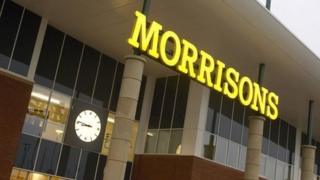 Supermarket chain Morrisons has reported a sharp fall in sales as it struggles to fight back against competition from the discount chains.
The retailer said like-for-like sales - which strip out the impact of new stores - fell by 7.1% excluding fuel in the 13 weeks to 4 May.
Last week, Morrisons announced it was cutting prices on more than a thousand of its products.
Morrisons has also been hit by its lack of convenience stores and online sales.
The retailer is now trying to catch up with its rivals. It said it was on track to have up to 200 convenience stores open by the end of the year.
Morrisons also said its new online business was performing ahead of expectations, and should reach up to half of UK households by the end of the year.
'Woeful' sales
In March, Bradford-based Morrisons warned that its profits would be hit this year by its plans to cut prices to win back customers.
Announcing its latest trading update, chief executive Dalton Philips said: "The plans we set out at our results in March are on track.
"The reaction of our customers to the 1,200 'I'm Cheaper' price cuts we announced last week has been very positive.
"Although it will take time for their full impact to be felt, we are confident that these meaningful and permanent reductions in our prices will enable our clear points of difference to resonate strongly with consumers."
The big four UK supermarket chains - Tesco, Sainsbury's, Asda and Morrisons - have been losing market share to discount chains Aldi and Lidl, which has prompted them all to cut prices.
However, Neil Saunders, managing director of retail analysts Conlumino, described Morrisons' latest figures as "woeful" and said they represented "an alarming deterioration in trade".
"The game now is one of market share stealing: any player that wants to grow has to take share from another," he said.
"Unfortunately in this 'zero sum game' Morrisons is a clear loser and is ceding share not only to the deep discounters but also to other big four players."