Driving ex-soldiers back to work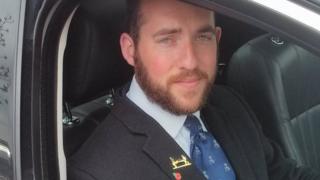 Sitting proudly in the driver's seat of a brand new top-of-the range Jaguar, chauffeur Dan Richards reflects on a difficult journey since leaving the Army two years ago.
"I applied for 327 jobs over the best part of a year and didn't get one interview," says Richards, a former Lance Bombardier in the King's Troop, Royal Horse Artillery, who was medically discharged after losing his right arm and shoulder in a motorcycle accident.
"It was my lack of experience, apparently. And I had no skill I could transfer over because of my injuries."
According to the most recent Ministry of Defence figures, 2,134 people were medically discharged from the armed forces in the year to the end of March 2013.
Many struggle to find work initially, turning to organisations like Recovery Careers Services and Help for Heroes for guidance and support.
Richards says he became withdrawn as a result of all the rejection letters, and was forced to spend all the money he had saved during nearly a decade in the Army.
It was only when his concerned mother contacted Help For Heroes last summer that he began to get his life back on track. They put him in touch with a new company in south west London that specialises in employing ex-serviceman.
Military values
Capstar Chauffeurs is the brainchild of two former Army officers: fund manager Rob Bassett-Cross and former Jaguar Land Rover consultant Charlie Bowmont.
"We felt that it was incredibly important to offer soldiers leaving the armed forces - either injured or able-bodied - new employment opportunities," says Charlie Bowmont, now managing director.
"But this is really the next stage on from charity. This is unashamedly about creating a sustainable business."
Capstar describes itself as offering a premium service. Its clients include high fliers in the City of London, company chief executives and celebrities.
It sources its cars directly from Jaguar Land Rover. Its drivers, meanwhile, come through a variety of routes, including charities, careers bodies and personal contacts.
All of them have a military background.
Bowmont and his management team believe this provides the company with a unique selling point.
"So many of those core military skills of discipline, discretion, integrity, timeliness, and outstanding turnout are exactly those qualities you would want a chauffeur to have," he says.
Badge of honour
Capstar is certainly keen to advertise its military connections.
Each car carries the regimental-style company badge on its front grille, and drivers must wear their regimental ties on duty - often sparking conversations with passengers.
Even the firm's head office has a military feel about it.
"We want it to be like a company squadron office here," says Henry Newton, operations director and an ex-Garrison Corporal Major in the Life Guards.
"When a driver comes to work here he has to purchase a plaque from his regiment as an emblem of his time in the forces, and this plaque then goes on the wall.
"We keep them here for all to see - it gives a feel of what we're about."
Funding the fleet
But the military connection is not the only thing that sets Capstar apart from its competitors.
While many start-ups struggle to find the cash they need, Bowmont admits the company is in a fortunate position.
He was able to tap "family and friends" for enough investment to buy Capstar's fleet of 11 top spec Jaguar Land Rovers.
And then there is the company's offices in London's famous Syon Park - ideally placed halfway between central London and Heathrow.
"Purely by opportunity, my neighbour up at the family home in Scotland - the Duke of Northumberland - owns Syon House.
"I explained Capstar to him, he loved the idea and said he wanted to support it, and gave us a little office here."
Driving forward
Nine months on from setting the company up, Capstar already has plenty of bookings, and more cars are on order.
The company has recently taken delivery of six brand new Jaguars, and on the day of my visit all but one of the company's 11 drivers are out on jobs.
Bowmont says Capstar is already breaking even, and he wants to have at least 30 drivers by the end of next year.
But he insists the focus remains on providing opportunities for returning servicemen.
"You can do some extraordinary motivational projects after you leave the forces," Bowmont says, "but the key to being a good dad and husband again is all about employment.
"It's all about having that get up and go in the morning, and having those small successes in life."
And that is a sentiment that resonates with Dan Richards.
"This has given me a whole new lease of life," he says, "and a new skill and trade.
"I'll speak for myself and others who have come through a recovery like this: we don't want sympathy, we want opportunity. And Capstar has given me that opportunity."