HSBC profits hit by fall in investment banking revenue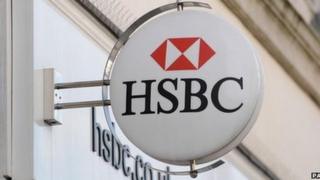 HSBC profits have dropped 20% in the first quarter compared with a year ago.
The bank reported pre-tax profits of $6.8bn (£4bn), which was a little more than analysts were expecting.
The comparison with 2013 was tough as last year's first quarter was boosted by asset sales.
Revenue at HSBC's investment bank fell 4%. Several investment banks have seen income drop in the first quarter after a grim start to the year for bond and interest rate trading.
HSBC, which makes most of its profits in Asia, said it had "muted customer activity" in April.
"In the first quarter we maintained control of costs and further demonstrated our capital resilience," said chief executive Stuart Gulliver.
"Whilst revenue was lower than the previous year's first quarter, which benefited from a number of specific items, we have seen progress in revenue over the trailing quarters."
Overall reported revenue fell $2.5bn to $15.9bn, and investment bank revenue fell 4% to $2.9bn amid "challenging" market conditions, HSBC said.
The bank has cut 40,000 jobs and sold or closed 60 businesses over the past three years to cut costs.
However, the bank said it added 1,100 jobs in the first quarter, mainly due to strengthening compliance, and adding staff where it sees growth potential.