Rugby World Cup shows commercial clout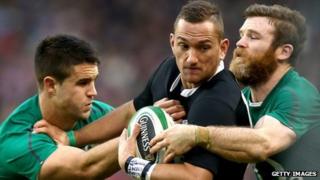 As this summer's football World Cup limps uncertainly to the starting line, the final phase of organisation for another global sporting event - the 2015 Rugby World Cup - has hit the ground running.
A global trophy tour, ticket and hospitality sales programmes, as well as groundbreaking broadcasting deals, have all set the tone for the 16-month run-in to England 2015.
Add in the finalisation of a volunteering programme, dubbed The Pack, and it is little wonder that organisers are confident next September's event will be the most successful from both a commercial and sporting point of view.
"We believe it is all shaping up to be a record breaking World Cup," says Brett Gosper, chief executive of the International Rugby Board (IRB).
"It will be an event that furthers the development and growth of rugby [union] around the world, and will be a truly memorable World Cup for all fans and stakeholders."
Games will be played in both England and Wales.
Hospitality programme
The World Cup trophy tour starts next week in Japan - hosts of the 2019 RWC, with the famous Webb Ellis Cup then visiting the nations that have qualified for 2015, as well as touring developing rugby nations.
For example, in Germany, ranked 26 in the world, there is a great interest from the rugby community and sponsors in seeing the trophy.
The globetrotting will also serve to promote both the event, and the fact that tickets for all 48 tournament games will go on sale between 12 and 29 September.
"We want 2015 to be a success, both commercially and in terms of attendances," says Mr Gosper, a former professional player in Australia and France. "We are doing everything we can to make sure the stadiums are full."
He said travel packages had already been sold in 50 countries, with 130,000 tickets pre-ordered by fans overseas.
The 2015 event will also see the widest-ever broadcasting coverage, with 200 territories taking the event, including Pakistan, Iceland and Greenland. There has also been a television push into Central Asia and North Africa, areas where the IRB wants to develop the sport.
In addition, organisers have launched what they say is the biggest-ever hospitality programme around any sporting event in the UK, including the Olympic Games and Formula 1.
Already there has been a 146% increase in revenues on this front compared with any previous World Cup.
Volunteer 'pack'
Meanwhile, on the sponsorship programme, Mr Gosper says that organisers have already seen a "record financial return".
The Top Tier sponsorship programme has been filled in record time - with Heineken, Land Rover, Societe Generale, DHL, Emirates airline, and Mastercard signed up - and at a 40% financial premium on any other tournament to date.
Mr Gosper said sponsors' activation programmes would give them "an exciting lead-in to the World Cup".
In addition some £45m in World Cup-related contracts will be awarded this year. And details of fanzones in each host city will be announced by the end of the year.
Meanwhile, the volunteering programme began in February, with 20,000 people asking to join The Pack of community helpers.
The next stage is to select the lucky 6,000 volunteers, with three-quarters coming from the rugby community in England and Wales.
Mr Gosper says he is confident the financial forecasts for 2015 will be be met, and that there may even be a surplus for English rugby union's governing body, the RFU, to invest in the game.
And he denies notions that the IRB may have to siphon off some of the revenues from 2015 to form a contingency fund in case holding the 2019 in the emerging new market of Japan does not pay off.
"We are not squirreling our nuts away for winter," he jokes. "We believe the Japan World Cup will be a good one commercially. We have had great sponsor interest in 2019, and Emirates are on board already."
Similarly upbeat about the power of the tournament is Debbie Jevans, chief executive of next year's event organisers England Rugby 2015.
"[London] 2012 showed that the country has a desire for big events - our research has shown that the demand and appetite is still there," says Ms Jevans, the former director of sport for the London Organising Committee of the Olympic and Paralympic Games (Locog).
"If you look at the Olympic Games, some of the events we did not think would sell out did so. That gives us hope about some of our games featuring smaller nations."
Ticket sales programme
For games such as Tonga v Georgia, or Canada v Romania, tickets start at £7 for children, and £15 for adults, and fans will be able to buy up to eight tickets each.
Tickets will be priced up to a maximum of £315 for adults for group games. For bigger matches, there will be a restriction of four tickets per person.
And where big matches - such as England v Australia - are over-subscribed, there will be a ballot for tickets. There will be no segregation, and fans from opposing nations can sit together.
Some 500,000 fans who belong to RFU member clubs will be given the chance to purchase tickets from this month.
"It is our ambition that tickets go to genuine fans," says Ms Jevans. "As with the Olympic Games, we will start sales with a ballot system, followed by the 'real time' purchase system."
She said organisers would have liked legislation to prohibit secondary ticketing sales, but admits "that is not going to happen".
To deter ticket touting, there will be an officially sanctioned ticket-trading site, and to restrict the secondary market, tickets will be sent out not long before the event starts.
Organisers will also do all they can to minimise the abuse of the hospitality process, where unregulated firms look to put together hospitality packages outside of official channels.
"It will be a successful World Cup if a player, fan, sponsor or broadcaster walks away saying, 'That was a great event,' and realises what a great sport rugby is," says Ms Jevans.