Alstom reports fall in profits as it mulls power bids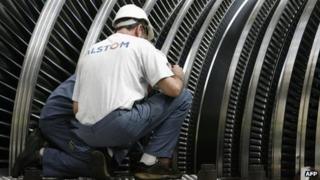 French engineering group Alstom, which is embroiled in a takeover battle for its power business, has reported a 28% drop in full year net profit.
For the year to March, profit fell to 556m euros ($774m; £455.9m).
The company blamed the fall on restructuring costs, asset writedowns and tough economic conditions.
Alstom is currently considering a $16.9bn offer from General Electric for its energy business, but German firm Siemens is also interested in the unit.
Siemens has said it will make an offer if given access to Alstom's books.
Speaking after the results were released, Alstom chief executive Patrick Kron reiterated that its books were open to Siemens.
"We have been in touch with Siemens and its advisers and now the possibility for them to make a move is perfectly open," he said.
Alstom has said it will decide by the end of May which bidder it prefers.
Refocus
The power business accounts for about 70% of Alstom's total revenue, and if a deal went through it would leave the company as a transport business. The company's transport unit makes TGV high-speed trains and signalling equipment.
Both GE and Siemens have already met French President Francois Hollande to discuss their potential offers.
The French government has opposed GE's offer, instead suggesting a deal that would also combine the two companies' rail businesses.
However, Mr Kron said GE's freight locomotives business was a "niche" activity and unlikely to have synergies with Alstom's transport business.
"I'm much more interested in signalling activities than in diversifying into a business in which we are not present," he added.