Fiat Chrysler details plan to double Jeep sales by 2018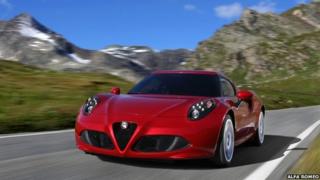 Fiat Chrysler plans to double sales of Jeeps by 2018 by expanding sales outside the US and launching new models.
The firm, created in January after Fiat took full control of Chrysler, said it aimed to sell 1.9 million jeeps in four years time, up from 732,000 last year.
The goal was unveiled as part of its five-year business plan for 2014-18.
It said it would also invest 5bn euros (£4.2bn) to relaunch its Alfa Romeo brand, with eight new models planned.
"We plan to sell 400,000 cars by 2018, more than fivefold what we sell today," it said.
Separately, Jeep brand boss Mike Manley said the merger of the two firms would help it drive global sales.
"China and Brazil are forecast to represent 32% of the global [SUV] market, and today we're a niche player because we are an import-only brand," he said.
It said it also expected to return the Chrysler brand to "the volumes and share it has achieved in the past".
The firm forecast sales of 800,000 by 2018, compared with the 350,000 units sold in 2013.