The twins powering kitchenware firm Joseph Joseph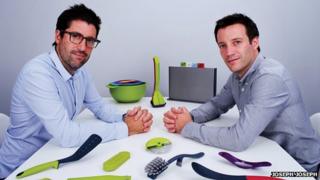 You would never guess by looking at the two founders and co-owners of funky kitchenware designer Joseph Joseph that they are brothers, let alone twins.
Richard Joseph is smooth-shaven, smartly dressed and serious.
In contrast Antony Joseph, the older twin by 10 minutes, sports a beard, is dressed casually and appears more laid-back.
The duo, who shared bunk beds as children and now, as 39-year-olds, live in separate houses on the same street, never planned to go into business together, aren't cooking fanatics and it's only thanks to their father that they set up the company at all.
Yet, they each now own half of a multi-million pound business.
Their firm, set up in 2003, designs brightly coloured, innovative "products with purpose" such as chopping boards that fold to channel the ingredients into a saucepan and stacking bowls incorporating a sieve and measuring jug, which it sells wholesale.
It made £35.6m of sales in the year to May last year, with a £9.7m pre-tax profit.
Richard is managing director, while Antony is design director. When they disagree, which they say is rare, they each have veto over the other for their side of the business meaning Antony's word on anything creative is final, while Richard's word rules on management and sales.
"We're lucky like that. We've always known where the strengths were, where our roles were," says Antony.
Their ease in each other's presence, and the way they casually interrupt one another demonstrates how they make the company work. And they say their competitiveness with each other has helped to fuel the firm's growth.
But it's only thanks to their dad that the company exists at all.
In what was ultimately a failed ruse to get them involved in the family business, their father asked Richard, who'd just finished an MA in design and business at Cambridge, and Antony, who was between freelance design jobs, to help out at his glass manufacturing firm - the factory where when younger they'd spent their summers shovelling up broken glass.
The company, set up by their grandfather, made toughened glass for products such as cooker hobs. But it was its sideline - glass chopping boards - that the twins got involved with.
Their plans for the division clashed with the goals of the main manufacturing business, so in a challenge akin to those designed by Lord Sugar to test would-be entrepreneurs in the BBC Apprentice series, their father gave them £10,000 worth of stock and told them to run it separately.
"It was stock not cash. We had to take it, sell it, make a profit on it and then use that profit to reinvest," says Richard.
The challenge was on and Joseph Joseph was born.
At this stage they weren't even sure what the company's focus would be - other than it would be design-led - the subject they had both studied at university and about which they are both passionate.
But when a buyer from their first big account - the now defunct department store chain Allders - rejected the glass clocks they'd started to make and advised them to stick to the chopping boards because they were selling well, their path was set.
"We could have done anything, but that then became our focus and how we got into kitchenware," says Richard.
To sell the products, they combined cold-calling with exhibiting at trade shows, on one memorable occasion going to Ikea to get the furniture for their display stand, driving straight to Glasgow in 10 hours and then sleeping overnight in the car to save on the hotel bill.
"We used to have crazy times. We'd launch a new design and print it the night before the trade show. And then design the catalogue that day and be showing it to customers the next. Nowadays we sell six months in advance and our stock is in the warehouse when we launch it at a tradeshow," says Antony.
One of their best decisions was to immediately target overseas sales and within just 18 months they had distribution in the UK, France, Germany and Japan.
"It was very hands-on, very naive. We were also lucky that we had a product which, from a design point of view, could cross barriers. It wasn't a British product," says Richard.
Since those early days, the company has dramatically expanded its range, but it has continued to focus on products it can sell globally. It now sells in 105 countries and makes 78% of its sales overseas.
Manufacturing has largely moved to China, but in a nod to their roots, the glass chopping boards are still made in the Midlands after they bought the machines from their father.
While, their growth appears smooth they admit it hasn't been easy. Their success has spawned several imitators, and they have had to dedicate some of their now 83-strong team to fighting the copy-cats.
Their global success means lots of travel and long hours, and pressure to constantly innovate. Gathering ideas, via their own design team and external designers, and deciding which products to make still takes up most of their time.
"The real trick is how can you create really inventive products that you use every day and try and get better at that. Ultimately it's all about being as creative as possible," says Richard.
That creativity is likely to soon stretch into other areas of the home. The twins are unequivocal that they would like to branch out, and emphasise that the firm is a "homewares", rather than a "kitchenwares" designer.
"We've got an amazing opportunity. Not everyone knows us, and we want to try and make sure they do," says Antony.