Barclays quarterly profits fall 5%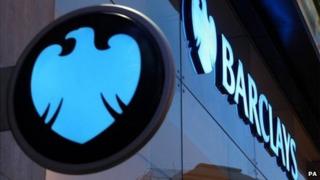 Barclays' adjusted first quarter pre-tax profits have fallen 5% after a reduction in investment bank income.
The banking giant reported an adjusted profit of £1.69bn, hit by a 28% slump in revenue at its investment banking business.
Barclays warned in April that its first-quarter profits would be down from the previous year.
The bank's shareholders have been unhappy about bonus payments at the bank, given falling profits.
The division at the investment bank which trades currencies, bonds and commodities had a particularly grim quarter - revenue dropped 41% to £1.23bn.
Overall, income at the investment bank fell 28% to £2.49bn.
The bank blamed "subdued client activity" and a reorganisation of the business.
Barclays said comparisons with last year were tough as it had a relatively strong first quarter in 2013.
However, Barclays said the performance of its retail banking division had been "resilient".
"A continued strong momentum across our retail, cards and corporate banking franchises, all of which generated higher returns year on year, [was] offset by a significant decline in FICC [fixed income, currencies and commodities] income within the investment bank, resulting in group adjusted profit before tax decreasing 5%," said Barclays chief executive Antony Jenkins.
Shrinking investment bank
Barclays' investment bank is in the process of restructuring.
The group said in January that it would cut hundreds of investment banking jobs.
Barclays is due to give details on Thursday about its restructuring plan.
"This plan will address issues underlying the performance challenges we have recently experienced, including positioning the investment bank for the new operating and regulatory environment," Mr Jenkins said.
Barclays warned in April that its currencies, bonds and commodities business would have a fall in profits in the first quarter.
Nevertheless, Barclays shareholders voted to approve the group's remuneration package, which includes higher bonuses.
However, some 34% of shareholders failed to back the report, with institutional shareholder Standard Life Investments voting against the package.