The brewery bringing cheer to a London borough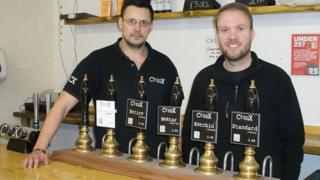 The first time you hear it, the name of Mark Russell and Simon Dale's brewery - Cronx - might strike you as anything but flattering.
After all, it draws an analogy between one of London's most maligned boroughs - Croydon - and the area perceived as the toughest in New York - the Bronx.
But the pair are keen to stress that they're proud of being born and bred in Croydon, south London, and that no insult is intended.
"Our name is kind of tongue-in-cheek," says Mr Russell, 31, who founded the Cronx brewery with Mr Dale in 2012.
"A lot of people refer to Croydon as the Cronx, because they see it as having the reputation of the Bronx.
"But, like the Bronx, Croydon has got some very good points. It's an up-and-coming area and we like to feel we're part of a new wave of businesses that are starting up and making that happen."
Community spirit
For many people outside the area, the mere mention of Croydon evokes memories of the riots that broke out in London and other English cities in August 2011, unrest that hit the borough particularly badly.
Mr Russell and Mr Dale met for the first time shortly before the riots, at a beer festival held at the Selhurst Park ground of local football club Crystal Palace.
They subsequently hatched plans to start their own commercial brewery, Croydon's first since 1954.
The pair say their business was spurred on by a revival of local community spirit in the wake of the riots. Symbolically, they sold their first pint of Cronx beer at a Croydon pub on 8 August 2012, exactly one year after the violence broke out in the area.
"We were trying to do something good to improve the reputation of the area, and make people realise that it's not as bad as a lot of outsiders say it is," says Mr Dale, 32.
Mr Russell, who previously worked for an alcohol wholesale firm, and Mr Dale, formerly employed in human resources in the City of London, started their firm with £70,000 of funding - some of it their own money, the rest provided by private investors.
Their combined office and brewery, an industrial unit in New Addington two doors down from Mr Russell's previous employers, is off the beaten track - and indeed, off the edge of the London A to Z, close to the Surrey border.
The pair say their early days there were a "steep learning curve" as they installed an array of stainless steel vats and tanks, experimented with beer recipes and coped with all the bureaucracy of starting a business.
One set of headaches came when they successfully sought permission to open a licensed bar on the premises. But it certainly came in handy when they held their first open day in January, an event they plan to repeat in the near future.
Local beer
Brewing takes place about twice a week, with a range of five permanent beers in production, plus a number of one-off and seasonal offerings.
Flagship Cronx brews include their Standard bitter, a blonde ale called Kotchin and a porter with a smoked chilli flavour, available in cask ale and bottled form.
"We got in at the bottom of the curve, when microbreweries were really starting off," says Mr Dale.
Some might say that in the meantime, the brewing field has become much more crowded in the UK, as more competitors get in on the act. But the Cronx duo reckon there's still plenty of room for small brewers to flourish.
"I don't think it is a crowded market. A lot of it is based on locality - a lot of local people will support their local brewery," says Mr Russell.
"London's got a massive population. When you compare it to Yorkshire, which has always had a massive amount of breweries but a much smaller population, I think London is just catching up.
"No-one really knows if there'll be a saturation point. But I know as a drinker, I'm just enjoying the wide range of beers that are out there and the wide range of breweries that are serving them."
Royal appointment
One unlikely fan of the Cronx brewery's beer is the Prince of Wales, who sampled a pint of Standard bitter when he visited Croydon in September 2012 to see the progress made since the riots.
"Prince Charles liked the beer, he was really impressed," says Mr Russell, adding that the prince said he could only have a sip and hoped the rest would not go to waste.
Pictures of the heir to the throne holding his pint adorn the brewery's website.
Cronx is very much a two-man operation, but the pair have ambitions to expand and look to the export market. At the moment, though, they have their hands full dealing with local demand.
"Right now, we're where we want to be, we know how everything works and it's going well," says Mr Russell.