News Corp buys 'bodice ripper' publisher Harlequin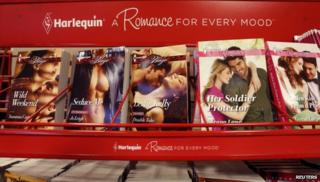 Rupert Murdoch's News Corporation has bought Canadian publishing house Harlequin for 455m Canadian dollars ($415m; £246m).
Harlequin, which was sold by Torstar, is known for publishing 'bodice ripper' romance fiction such as "My Fair Billionaire" and "Expecting the CEO's Child".
More than 40% of its revenue comes from non-English publications.
It will become a division of News Corp's HarperCollins subsidiary.
Founded in 1949, Harlequin publishes books in 34 different languages and sells them in 100 international markets.
Almost all of HarperCollins sales come from English language publications, so the purchase is being seen as way for News Corp to expand its publishing business.
"Harlequin's business has grown internationally, and will give HarperCollins an immediate foothold in 11 new countries from which we can expand into dozens of foreign languages for authors who choose to work with us globally," said HarperCollins chief executive Brian Murray in a statement.
Shares in Torstar, which also owns the Toronto Star daily newspaper, surged more than 17% after the sale was announced. The group acquired control of Harlequin in 1975 and full ownership in 1981.
News Corp's share price was little changed.
Harlequin, which has around 1,000 global employees, 350 of whom work in Canada, will remain based in Toronto, Canada.