Network Rail cuts director bonuses to 20% of salary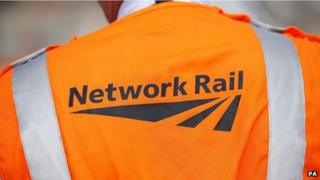 Network Rail, has cut the annual bonuses it pays to its senior executives from a potential 160% of their salary to a maximum of 20%.
Director salaries will not be increased to compensate for the cut in bonuses, it added.
Network Rail said bonuses will be deferred for three years and could even be eliminated if performance targets - particularly on safety - are not met.
The reformed bonus scheme is intended to run for the next five years.
It follows the agreement of a new £38bn five year infrastructure plan agreed between Network Rail and the government.
The new bonus structure will be voted on by Network Rail's members - the equivalent of its shareholders - at the company's annual general meeting in July.
Network Rail has until now employed a complex bonus structure for senior executives that could have seen them earn a maximum 160% of their salary in bonuses, if performance targets are met.
The bonuses are split into two: a long term element worth 100% of their annual salary and an annual element worth up to 60% of their salary.
Last year Network Rail's top five senior executives were awarded bonuses equivalent to 17% of their annual salaries.
The executives could have got 60% of their salary, but missed punctuality targets meaning they lost out on the full amount.
All five waived their annual bonuses in 2012 after a fierce political row.
Public Service
Mark Carne, who was appointed chief executive of the rail infrastructure firm in September on a salary of £675,000, said he was confident of being able to attract and retain the best people despite the dramatic fall in bonus payments.
He said: "No other company can offer its people the sense of satisfaction and pride that comes from delivering a public service, which is so critical to the country's infrastructure and economy.
"My team and I have a huge responsibility to deliver a £38bn programme over the next five years. We are up for the challenge and will make the tough decisions required to drive continued improvement through the business for the benefit of rail users and taxpayers."
Network Rail chairman, Richard Parry-Jones, added: "We believe that at the start of a new five year programme, the time is right to reconsider the bonus structure for our executive directors. The potential to earn large bonuses is no longer sustainable in the environment in which this company operates."