Banks defend their roles in sale of Royal Mail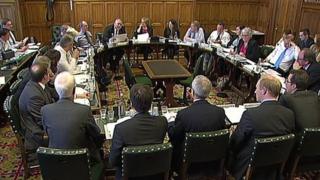 A key adviser to the government over the sale of Royal Mail has come under attack from MPs, after it was revealed the firm's investment arm was given priority access to shares.
Lazard's asset management arm was one of the preferred investors chosen by the government, while its advisory body worked on the Royal Mail flotation.
The company's chief executive said its advice had remained impartial.
On Tuesday, Vince Cable said he had no regrets over the handling of the sale.
Representatives from Lazard appeared in front of the Public Accounts Committee, alongside banking giants Goldman Sachs and UBS, who handled the sell-off of the 500-year-old institution last year.
The committee also questioned senior managers from the Department of Business, Innovation & Skills.
'Priority investors'
Earlier on Wednesday, a list of 16 firms which were given preferred status for the share sale was published by the government.
The "priority investors" received a large allocation of Royal Mail shares, with the aim of creating a stable, long-term shareholder base.
Initially, 65 global investment funds were approached, to gauge their interest in buying Royal Mail shares, and the list was then dwindled down to 16.
Lazard Asset Management, which was among those listed, said it made £8m on behalf of its clients from the sale of its shares, within the first week of trading.
Committee chair Margaret Hodge said: "Do you really think its appropriate that another arm of your company picked up nearly half the shares, that went directly to clients of those with an interest?"
William Rucker, Lazard's chief executive, insisted that the investment and advisory divisions had remained separate.
"The Chinese Wall is compete and utter," he told MPs.
On Tuesday, Business Secretary Vince Cable appeared in front of another parliamentary committee, and said he had no regrets and no apologies to make over the way the sale was handled.
Royal Mail shares were offered at 330p on the first day of trading, but immediately jumped 38%, sparking a furore about whether a prime state-owned asset had been sold off on the cheap.
The shares are now trading at above 520p.
The National Audit Office also published a damning verdict on the privatisation.
The row over the sale of the UK's postal service caused a clash between David Cameron and the Labour leader during Prime Minister's Questions on Wednesday.
Ed Miliband said the privileged investors were given a "golden ticket" to buy Royal Mail shares and then sold them on day one of privatisation.